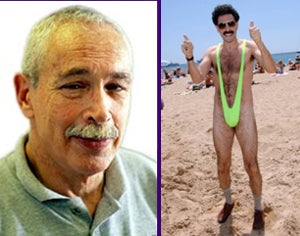 We know, we know: The unconditional love for SI scribe Rick Reilly's "Riffs Of Reilly" segment — sample comedic genius moment: "USC's quarterback is John David Booty and Texas' is Colt McCoy. Hey, weren't both those guys on 'Gunsmoke?'" Oh, Rick, you slay us! — makes you think that SI.com must be so tapped out producing such an earth-shaking segment that they couldn't possibly come up with anything else. But fear not, intrepid online sports content consumer: they've got so much more!
Sports Illustrated will launch later this month "various video programs exclusively on SI.com," according to Terry Lefton in this week's SportsBusiness Journal. SI Managing Editor Terry McDonell said, "Our programming has to go deeper than just personalities. Our charge is to take the magazine experience and making it an every day/every hour thing on SI.com." Peter King will have an NFL-insider segment on "King's Corner;" Bob Costas and Jeff MacGregor will host "Jump The Q," which will "showcase the two in an informal setting discussing the sports issues of the day;" and Paul Zimmerman will be featured in "She Says, Z Says," where he will "offer his weekly NFL picks with SI swimsuit models who are avowed football fans." King and Costas will also star in a yet-untitled webcast on the "lighter side of sports."
First off, we can all agree that Bob Costas and Peter King just don't get enough camera time. But more to the point: Dr. Z and swimsuit models??!! Wha? We're not quite sure what to do with that. Probably cry a little.