Diamondbacks outfielder Jon Jay had a rough, frustrating time Friday night. Twice he reached up at the outfield wall to make a play on a shallow dinger, and both times Padres fans beat him to the ball. All Jay came down with, in the end, were a few droplets of spilled beer, and disappointment.

In the bottom of the fifth inning, Padres first baseman Eric Hosmer cranked a ball to the wall in left field. The Padres have a relatively short eight-foot wall in left, and Jay had a good shot at this one, until an ambitious fan attempting the always thrilling beer catch knocked his glove away:
Watch the replay a few times and it should be obvious that the fan's beer does, in fact, collide with Jay's glove. Certainly Jay saw it that way, saying after the game that he "thought [the fan] moved my hand when it was right there to make the catch." Interference, right? Get that joker out of here. Wrong! Umpires ruled it a home run, ultimately finding no decisive evidence that the fan reached out over the wall and into the field of play. Even though his beer clearly spilled onto the field of play, and he clearly made contact with Jay's glove, even though he botched the beer catch, the fan was allowed to remain in the ballpark.
G/O Media may get a commission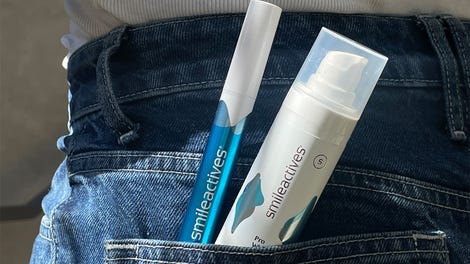 58% off
Whitening Powerhouse Pen & Gel Duo
And then, in the eighth inning, Manuel Margot lifted a shot a few degrees closer to the foul pole in left, leading to an eerily similar, if beerless, second fan encounter:

This one is more clearly not an instance of fan interference, although it looks equally likely to have been caught by Jay, who timed his leap well and seemed to have a bead on it. Twice Jay was presented with a chance to make dramatic highlight snags at the wall, and twice he lost the battle to goofy Padres fans. A rough business. Ultimately the two robbed dinger-robbings weren't a factor in the game—the Diamondbacks cruised to a 9–4 victory.