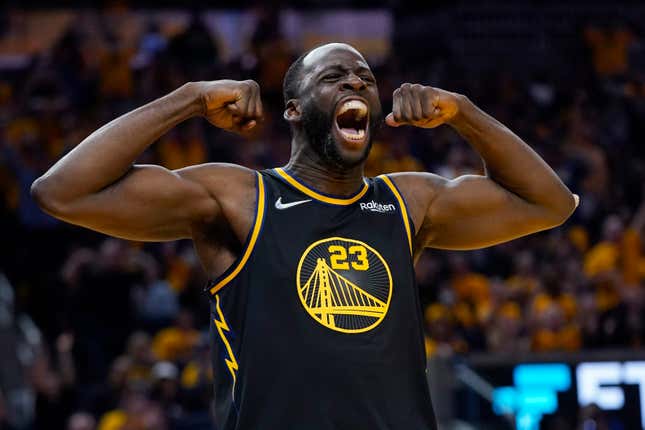 Nearly a year after the punch heard around the NBA was landed when Draymond Green took off on former Golden State Warriors teammate Jordan Poole in practice, we're still talking about the incident, and some people are tired of reliving the ordeal. One of those people is Poole's father, Anthony, who tweeted his disdain for Green Tuesday night, likely after seeing the trailer for Green's appearance on Patrick Beverly's podcast, which aired Wednesday morning.
Draymond Green's future as a boxer | The Weigh In
Now the two men are involved in a budding Twitter beef where Green responded to Papa Poole basically calling "cap," saying there's no way he could've avoided him all season. Draymond also warned the senior Poole to "stop using those words, they usually don't go over well amongst men."
Of course, everyone thought that issue had been put to bed when Jordan was traded to Washington for Chris Paul. But here we are weeks later, and not only is Green still speaking on it, but he's having a war of words with Poole's father on Twitter. His former teammate still hasn't said much about the confrontation. Green also addressed rapper Cam'ron's depiction of the conversation on his show, "It Is What It Is," which led to Draymond putting hands on Poole like a pastor. He denies the Cam'ron report but had a good chuckle behind it.
Green was also asked by Pat Bev and his co-host "Rone" about the other elephant in the room. His relationship, or lack thereof, with the new Warrior CP3. Dray didn't hide from the fact that he's on record saying he doesn't like Paul but also respects his tenacity, his will to win, and his competitiveness. It sounds like these two will sit down, have a conversation, and attempt to get on the same page for the sake of making a championship run. They don't have to hang out off the court and post Instagram photos and all that madness. It's all about winning, as it should be.
Wednesday was certainly all about Green as he had his run-in with Anthony Poole, then jumped out the window on Kevin Garnett in response to a fake Twitter account. "TheNBACentel," not The NBA Central, posted a "quote" from KG saying:
"Draymond punching JP is like a senior punching a freshman who's half his size and then walking around talking himself up as if he's like that. Come try me, Dray." Not long after that tweet, Green had his comeback.
"I tried you when I was a Rookie KG, and you started talking to yourself like I wasn't talking to you. What's that like? The freshman picking on a senior citizen
that's double his size? @KevinGarnett5KG"
It wasn't long before Green took down his tweet, noticing he'd been duped by the fake account like so many before him. It happens to the best of us. Green was obviously riled up and had some adrenaline pumping behind the day's activities. Garnett then defused the situation by retweeting Draymond, saying it was a fake account and telling Elon Musk to fix it.
One thing about the NBA is they bring us storylines and drama year-round. Even when nothing important is happening, there's still something going on around the association.