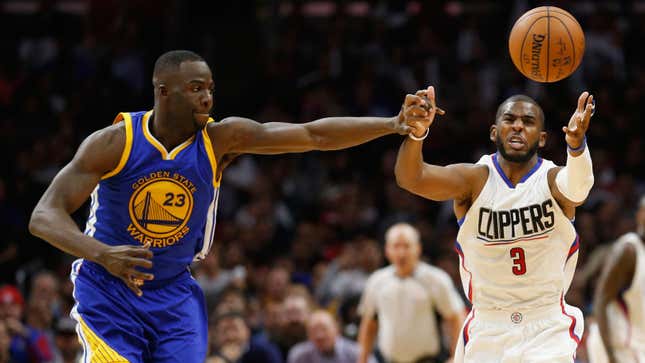 An old clip has resurfaced of Draymond Green giving his unfiltered thoughts on his "relationship" with new teammate Chris Paul. As usual, Green did not hold back and kept it real, saying, "I don't like CP at all like we don't have a good relationship at all, but I respect his hustle, and I respect his IQ…"

Green recently declined his player option with Golden State making him an unrestricted free agent. Since all indications are that the Warriors' emotional leader will return, it makes you wonder how this new arrangement will work out. If they haven't already, Green and Paul will need to sit down and talk at some point prior to October. Surely, CP3 knows how Green felt about him once and wants to get off on the right foot with his new team.
A bold move to a different banana-colored bench than we anticipated | Keep it a Buck(et)
Is there room for Chris Paul and Draymond Green?
We've seen over the years what can happen when Green's emotion takes over. It's usually balls to the wall, all gas, no brakes. Jordan Poole found out the hard way and got shipped out less than a year later. Obviously, Draymond respects Paul much more than Poole, but any lingering ill will would need to be sorted out pronto.
After all, at age 38, this is likely Paul's last good shot at winning a championship. It could be bittersweet if it happens while playing behind a former rival, but a ring is a ring. This is one of those situations where CP3 will be forced to swallow his pride. Paul's days as a guaranteed starter are over if he stays with the Warriors. He'll more than likely run the second unit in Golden State. That may sound strange, but you might as well get used to it since CP3 is about to.