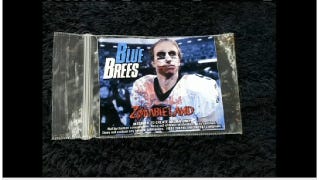 This should be obvious, but if you want to sell narcotic bath salts masquerading as aromatherapy powder, there's no better packaging than Drew Brees, photoshopped to make it look like he's wearing Heath Ledger's Joker makeup (we think). It's basic marketing. Unfortunately, Blue Brees, the hot new drug on the street, has some startling side effects:
Mary Hughes of Denham Springs, Louisiana says her 16-year-old son got it as a present and smoked it, which led to a frightening night.

"His eyes were basically real droopy," Hughes said. "His speech was very slurred. He had no emotion. He barely could stand and absolutely no emotion, so 'Zombieland' was really correct. He was a zombie."

Hughes admits her daughter, who is of age, bought the product at a Baton Rouge store called Zombieland.
His eyes were basically real droopy. Get this menace off the streets!
Zombieland's owner pointed out that his products are merely for "aromatherapy" and not meant for smoking, to which Hughes sensibly responded, "If I was going to go in and buy something for aroma-therapy or make my house smell well, I wouldn't spend $20 on a little Ziplock baggy."
A spokesman for Drew Brees said his client would take "appropriate action," and an LSU law professor says the store probably infringed on the NFL's copyright.
Previously: LeBron James Is Now Being Used To Sell Heroin