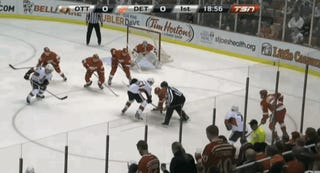 Skates aren't supposed to go six feet high, but sometimes when you're being undercut to the ground shit happens. After getting hit in the face by Ottawa forward Mark Stone's skate, Drew Miller immediately got up and skated to the bench, motioning frantically. Luckily, somehow, though Miller suffered deep lacerations, the blade did not damage his eye:
That's not to say Miller's face didn't get extremely fucked up. Below is a graphic photo of his face that you shouldn't scroll down to if you are squeamish.
.
.
.
You can see the full play below.