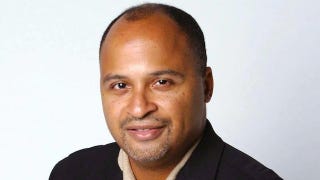 Ever email your constructive criticism to a sportswriter, only to receive a crappy, needlessly hostile response? Forward the emails to us at tips@deadspin.com, subject: Crap Emails.
Drew Sharp of the Detroit Free Press can author some entertaining responses to readers. First up is Gary, who fired off this critique of Sharp's work several years ago:
From: Gary B.
Sent: Sat 9/24/2005 8:14 PM
To: Sharp, Drew
Subject: hey drew

Sweet picks this week, looks like you don't know everything after all, also quit being such a pessimist with our Detroit sports, that bit is getting really old, think of another angle geek! 0-5, The Great Boudini, hahahaha, dork!
To which Sharp responded:
From: Sharp, Drew
To: Gary B.
Subject: Re: hey drew

0-5? Can't you read? It was 2-3, actually. The picks were AGAINST THE SPREAD!!! You know what means, don't you? Or do I have to write....slowly.....so.....deficients.....such....as....yourself.....can.....keep.....up. And stop crying about me picking on your precious Detroit sports teams. WAAAAAAAAAAAAAAAAH I rag on them because, for the most part, THEY SUCK. If not for the Pistons, this state would be a sports graveyard. But the truth hurts doesn't it?
It does! More recently, Andrew decided to drop Sharp a line:
From: Andrew S.
Sent: Thursday, November 24, 2011 01:46 PM
To: Sharp, Drew
Subject: GARBAGE

Drew, I hate your articles so much. The last one about the big ten not competing is also garbage.

Do us all a favor and quit. Also write something positive about detroit if you insist on keeping your job as a garbage sportswriter.

Also, when you are on espn, please be sure to not tell them you represent Detroit. You represent nothing this city stands for. I write your boss every week and ask him to fire you.

GO TO HELL
And this was Sharp taking the high road in reply:
From: Sharp, Drew
Date: November 24, 2011 1:08:57 PM CST
To: Andrew S.
Subject: Re: GARBAGE

WAAAAAH! WAAAAAH!
Does the little baby need a pacifier?
Yeah, Detroit needs writers that makes excuses for the city and simply tell the idiots in this town just want to hear.
They've been doing that for 30 years in this town and that's a big reason why Detroit is swirling down the toilet.
Oh, I'm sorry...that's not a "happy feel good story" is it?
HAHAHAHAHAHAHAHA!!!!