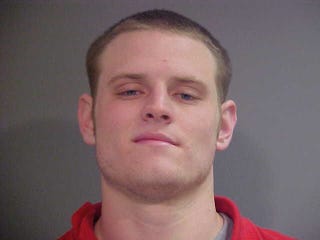 At the Indianapolis scouting combines, the press asked NFL aspirant Ryan Mallett about the "heavy rumors of drug use and [if] possible addiction kept him from coming out for the 2010 draft." Those "heavy rumors" stem from an article by Tony Softli, a former NFL executive in Carolina and St. Louis, on ESPN's St. Louis affiliate's website.
Mallett politely declined to address those two and several other questions about the character issues dogging him as he prepares for April's draft, saying he'll tell teams "what they need to know and I'm going to leave it at that."

"I mean, obviously somebody did it for a reason," Mallett said. "Right before the combine, before the draft. But that's the last I'm going to talk about that."
Before long, the interview was stopped early by a combine official. Here's how Softli followed up:
He is a young man with a big smile, but struggled with questioning when grilled about the rumors surrounding past episodes with drugs. Frustrated by the barrage of questions, he cut the session short and walked off the stage. I received a call from a member of the Arkansas coaching staff, who said, "Ryan Mallett never failed a drug test at the University of Arkansas." You can see the youth and immaturity, but he can spin the ball.
Oh yeah, quarterback, entertainer and icon Cam Newton was there yesterday, too. Obviously. For a similar reason.
Former Arkansas quarterback Ryan Mallett doesn't clear air about drug rumors [Mercury News]
Ryan Mallett hard to take down [Boston Herald]
QB Mallett makes Cutler look charming [ESPN Chicago]
Report: Mallett's drug use could be addiction [NBC Sports]