We touched on this briefly last week, but it merits rementioning: The Duke University men's lacrosse team is in serious trouble. If you missed the details of the case, a student at North Carolina Central University was hired to dance for various members of the team at a "small bachelor party." The evening ended with her being dragged into a bathroom and allegedly raped.
She pressed charges, but no members of the team have come forward. It is to the University's credit that they took immediate action: Cancelling the team's upcoming games and demanding that each player take a DNA test, since the players have stonewalled all authorities.
Inside Lacrosse has been all over this story — not that it really matters, but Duke had the No. 2 lacrosse team in the country — and even pointed us to an interview with the victim. So far, members of the team have remained silent in solidarity, but officials vow to break the stalemate. It is perhaps not surprising that team is remaining so silent; the party was hosted in a house rented to the team's three captains.
GoDuke.com has taken down the roster page for the team. We feel it's important to know who these people are, so the names are after the jump.
Dancer Gives Details Of Ordeal [News&Observer]
Statement by Duke University President Richard H. Brodhead On Men's Lacrosse Team [GoDuke.com]
Inside Lacrosse
Empire Strikes Back [Happy Toilet]
G/O Media may get a commission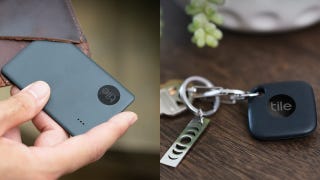 Up to 35% off
Tile Item Trackers
(UPDATE: A blog called Justice 4 Two Sisters has been started to make sure the public stays aware of this case.)
—————————————————————————————————————————
38 Breck Archer MIDFIELDER 6-0 190 Jr. Sea Cliff, N.Y. (Taft)
31 Bo Carrington MIDFIELDER 6-4 220 So. Charlottesville, Va. (Covenant School)
37 Casey Carroll DEFENSE 6-2 180 Jr. Baldwin, N.Y. (Baldwin)
29 Mike Catalino MIDFIELDER 6-0 200 Fr. Webster, N.Y. (Webster Schroeder)
17 Tom Clute DEFENSE 6-1 190 Fr. Potomac, Md. (Bullis)
46 Kevin Coleman DEFENSE 6-2 185 Sr. Ridgewood, N.J. (Delbarton)
19 Josh Coveleski ATTACK 6-4 205 So. Dover, Del. (Ceasar Rodney)
22 Ned Crotty MIDFIELDER 6-1 180 Fr. New Vernon, N.J. (Delbarton)
40 Matt Danowski ATTACK 6-0 190 Jr. Farmingdale, N.Y. (Farmingdale)
8 Ed Douglas MIDFIELDER 6-2 170 Sr. Baltimore, Md. (Gilman)
15 Kyle Dowd MIDFIELDER 5-9 175 Sr. E. Northport, N.Y. (Northport)
6 David Evans DEFENSE 5-10 190 Sr. Bethesda, Md. (Landon)
13 Collin Finnerty ATTACK 6-3 175 So. Garden City, N.Y. (Chiminade)
12 Dan Flannery ATTACK 5-11 190 Sr. Garden City, N.Y. (Garden City)
7 Gibbs Fogarty ATTACK 5-10 175 Fr. Chevy Chase, Md. (Landon)
25 Zack Greer ATTACK 6-2 185 So. Whitby, Ontario (All Saints Catholic)
23 Erik Henkelman DEFENSE 5-10 175 Sr. Swathmore, Pa. (Episcopal)
49 Jay Jennison DEFENSE 6-4 205 So. Richmond, Va. (St. Christopher's)
26 Ben Koesterer MIDFIELDER 6-1 195 So. Cazenovia, N.Y. (Cazenovia)
11 Fred Krom MIDFIELDER 5-10 185 Jr. Summit, N.J. (Delbarton)
1 Peter Lamade MIDFIELDER 5-9 180 Jr. Chevy Chase, Md. (Landon)
36 Adam Langley ATTACK 5-9 165 So. Glenview, Il. (Glenbrook South)
2 Chris Loftus ATTACK 5-8 160 So. Syosset, N.Y. (Syosset)
4 Dan Loftus GOALIE 5-9 160 Jr. Syosset, N.Y. (Syosset)
34 Kevin Mayer DEFENSE 6-0 185 So. Great Falls, Va. (Potomac School)
44 Tony McDevitt DEFENSE 6-0 205 Jr. Philadelphia, Pa. (Penn Charter)
41 Ryan McFadyen DEFENSE 6-6 225 So. Mendham, N.J. (Delbarton)
42 Glenn Nick DEFENSE 6-1 190 Sr. Garden City, N.Y. (Garden City)
77 Nick O'Hara DEFENSE 5-10 190 Jr. Orachard Park, N.Y. (Orchard Park)
28 Dan Oppedisano MIDFIELDER 5-11 195 Jr. Garden City, N.J. (Garden City)
32 Sam Payton MIDFIELDER 5-11 185 Fr. Cos Cob, Conn. (Brunswick)
18 Brad Ross MIDFIELDER 6-0 190 So. Darnestown, Md. (Bullis)
5 KJ Sauer MIDFIELDER 6-1 190 Sr. East Rockaway, N.Y. (Lynbrook)
20 Steve Schoeffel MIDFIELDER 5-8 165 Fr. Charlottesville, Va. (Covenant)
30 Rob Schroeder GOALIE 6-0 210 So. Summit, N.J. (Summit)
45 Reade Seligmann MIDFIELDER 6-1 215 So. Essex Fells, N.J. (Delbarton)
50 Devon Sherwood GOALIE 5-10 160 Fr. Freeport, N.Y. (Baldwin)
47 Dan Theodoridis DEFENSE 6-1 205 Fr. Norwalk, Conn. (Norwalk)
24 Bret Thompson MIDFIELDER 6-0 185 Sr. Chevy Chase, Md. (Georgetown Prep)
3 Chris Tkac DEFENSE 6-0 185 Fr. Gaithersburg, Md. (Landon)
14 John Walsh MIDFIELDER 5-11 190 Jr. Bethesda, Md. (Landon)
9 Michael Ward MIDFIELDER 6-0 195 Jr. Setauket, N.Y. (Ward Melville)
48 Rob Wellington MIDFIELDER 6-3 200 So. Dallas, Texas (Highland Park)
21 Matt Wilson MIDFIELDER 6-0 185 Jr. Durham, N.C. (Durham Academy)
43 William Wolcott DEFENSE 6-0 190 Sr. Dallas, Texas (St. Mark's)
27 Michael Young MIDFIELDER 6-0 180 So. Manhasset, N.Y. (Chaminade)
10 Matt Zash MIDFIELDER 5-11 190 Sr. Massapequa, N.Y. (Massapequa)