Duke beat Elon, but who cares. We're all here for Grayson Allen getting T'd up for tripping an opponent (his third such tripping incident in the calendar year), having a mini-meltdown about it, the ensuing pile-on of Coach K, and everyone waking up this morning to the news that Duke has indefinitely suspended Allen, effective immediately.
From a statement attributed to Mick Krizilonski:
"We have had the opportunity to thoroughly review the incident involving Grayson Allen from last night's game against Elon. As I stated last night, the incident was unacceptable and inexcusable. He took an important step last night by apologizing in person to Steven Santa Ana and Coach Matt Matheny. As a program, we needed to take further steps regarding his actions that do not meet the standards of Duke Basketball. To that end, we have determined that Grayson will be suspended from competition for an indefinite amount of time."
This offseason Allen swore he'd change his play, said he'd matured, said he'd keep his emotions in check. Whatever work he'd done on those things, it evaporated last night.
G/O Media may get a commission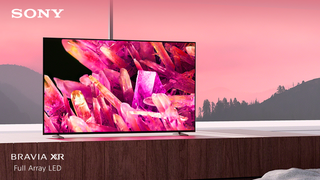 $400 off
Sony 55 Inch 4K Ultra HD TV X90K Series
Allen got emotional on the bench, angry, glowing red, he covered his face with a towel. In the locker room afterward, Allen got raw again, though by now the emotion had swung toward contrition.
"I made a really bad play. I'm sorry to him, [Elon's Steven] Santa Ana, sorry to the officials that had to call that, sorry to my team. It was selfish and taking away from them. I'm not proud of it at all."
And just for good measure, a tearful Allen said it wouldn't happen again.
It is a universally accepted truth that Fuckboy Duke is a lot more fun to have around than Quietly Competent Duke, because the real villain is always Mike Krzyzewski, who wakes up with sanctimony dripping from his butthole, and now must show that a Leader of Men™ can do something about a flailing, floppy-haired kid who's genuinely a threat to hurt someone out here.
Krzyzewski arranged a brief meeting with Allen, Santa Ana, and Elon's coach Matt Matheny, at which Allen reportedly apologized. Krzyzewski then told the press that he doesn't owe anyone an explanation.
"I handle things the way I handle them," he said. "I think I've handled this correctly, and moving forward, I will continue to handle it correctly. I don't need to satisfy what other people think I should do."
Oooh, yeah, that's the stuff.
That said, people had ideas. ESPN's halftime crew was impressively outraged by Allen's actions. (Former Dookie) Jay Williams and Seth Greenberg called for Krzyzewski to immediately suspend Allen, with Greenberg suggesting a five-game ban would be about right.
Krzyzewski's only obligation is, of course, to win basketball games. But it's going to be really fun to watch commentators take the mythos Coach K has built up around himself and turn it back on him as justification for why he needs to subvert his own competitive interests to, I don't know, build character or some shit. This hagiographia from ESPN's Dana O'Neil makes me want to barf, but I'm OK with a world where Coach K is threatened with accusations of hypocrisy.
He is college basketball's voice, if not its moral authority, the yoda master people seek when they need insight on the state of the game, the one opinion in a coaching Tower of Babel that actually carries some weight.

How can Krzyzewski condone poor sportsmanship, let alone such dirty play? To suspend Allen wouldn't be kowtowing to public pressure. It would be living up to the high standards Krzyzewski has set — and soared above — his entire life.
See? Barf.
So, today's indefinite suspension, which is likely to last until the outrage expires or Duke faces a ranked opponent, whichever comes sooner. (So, three games, and back for FSU and Louisville.)
But the whole thing's a win-win situation. College basketball gets attention in December. Fans get to flex their Duke-hating muscles. Pundits get to slobber over Coach K. Coach K gets to look benevolent and unsparing. Blogs and websites get to rake in that sweet, sweet traffic, because nothing does numbers like Fuck Duke. Thank you for visiting Deadspin. Please click on all our ads before you go.