What you're about to read is really, really stupid. Like, snap-your-laptop-in-two-over-your-knee stupid. Seal-up-Europe's-borders-Donald-Trump-style-to-keep-out-Americans stupid. And as a soccer fan on this side of the Atlantic who doesn't share sports executive Charlie Stillitano's braindead takes on how to "improve" the Champions League (read: how to fix the problem [???] of rich teams not making enough money), all I can do is apologize and promise you that we aren't all this dumb.

The best sports movies according to Toheeb Jimoh
Are you familiar with the International Champions Cup, the hot new preseason tournament hooking up the American soccer fan base with the biggest and best teams of Europe? If not, you're definitely familiar with the sort of transaction: American soccer fans slap down their hard-earned dollars for some time with Europe's elite teams during the summer, and in exchange clubs like AC Milan and Chelsea and Real Madrid trot out their backend rotation players with maybe a couple late cameos from one or two of their real stars. In this scenario, Charlie Stillitano and the Relevent Sports marketing firm he chairs, are the escort agency. They round up the talent, hook them up with the venues in which they'll perform, put out ads to alert all interested parties, and take the clients' money.
As you can imagine, this is lucrative work that has allowed Stillitano to ingratiate himself into the inner circle of world soccer's elite. He's known and beloved by some of the biggest figures in the game for his work over the years. Sir Alex always asks for Stillitano's lasagna Bolognese when he comes over to the house! José Mourinho has given him a cute little nickname! Buddies being buddies!
It was in his capacity as Relevent Sports chairman that Stillitano found himself in a room this week with some of the most prominent figures at the biggest clubs in English soccer—Arsenal, Chelsea, Liverpool, Manchester City, and Manchester United. Ostensibly there to coordinate the logistics of this coming summer's cash tour, Stillitano on his radio show recounted another conversation he had that day, his thoughts on how to make the Champions League better.
G/O Media may get a commission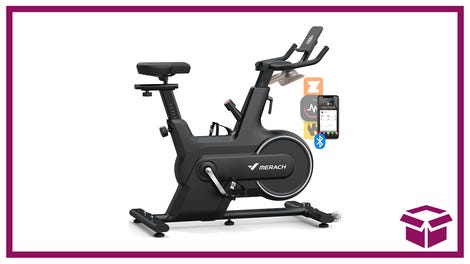 14% off + Coupon
Merach Indoor Cycling Bike
The problem, as Stillitano sees it, with the world's most prestigious club tournament? It isn't slanted enough in favor of the big guys. From ESPN FC:
Stillitano believes Europe's biggest clubs deserve to make more cash from the Champions League, given their contribution to making it such a financial success. He said fans are more likely to watch the Juventus-Bayern Munich and Arsenal-Barcelona games in the current round of 16 rather than matches involving PSV Eindhoven and Gent.

"This is going to sound arrogant and it's the furthest thing from it ... but suddenly when you see the teams we have this summer in the ICC you are going to shake your head and say, 'Isn't that the Champions League?"' Stillitano said. "No, the Champions League is PSV and Gent."

Voicing the complaints he hears from clubs, Stillitano said that they told him: "I could make a lot more money, I can be a lot more visible, I can help my sponsors out but right now I am locked into doing certain things that [are] really historic."
Yes, that's right: Stillitano thinks the already super rich teams are getting screwed financially in the Champions League because teams like PSV and Gent are taking their money.
Here's how he described Leicester City—one of the greatest underdog stories in the history of English soccer—and the unconscionable tragedy that is their run to a likely Champions League spot for next season, keeping out a more "deserving" team like Manchester United:
"What would Manchester United argue: Did we create soccer or did Leicester create [it]?" said Stillitano, a former general manager for the club now known as the New York Red Bulls, told SiriusXM radio.

"Let's call it the money pot created by soccer and the fandom around the world. Who has had more of an integral role, Manchester United or Leicester? It's a wonderful, wonderful story. But you could see it from Manchester United's point of view too.

"Maybe that is absolutely spectacular unless you are a Manchester United fan, Liverpool fan ... or a Chelsea fan. I guess they don't have a birthright to be in it every year. But it's the age-old argument: U.S. sports franchises versus what they have in Europe.

"There are wonderful, wonderful, wonderful elements to relegation and promotion. And there are good arguments for a closed system."
What the hell even is this? Manchester United created soccer? Because of that United and teams like them are entitled to automatic Champions League berths? And teams that demonstrate their superiority over a season shouldn't be in the Champions League because other teams might be bigger draws?
Stillitano's points make absolutely no sense. If he's worried about the livelihoods of the formative clubs that built Europe's leagues and international competitions into what they are now, teams like Preston North End, Pro Vercelli, and Ajax seem to have a stronger case for economic protection than Chelsea and Man City. The real solution to this imaginary problem of his is for United to better use their already considerable financial advantage over Leicester to buy better players and hire better coaches and scouts to preclude a Leicester-type insurgent from ever existing.
Not to mention that the whole reason the Premier League's TV rights are so valuable, and thus the league so profitable, is exactly because it is top-to-bottom the most competitive elite league in the world. In a very real sense, the EPL's domination is predicated on Leicester and West Ham and Watford and Southampton being good, more so than on United and City and Arsenal being great.
The biggest flaw here might be the idea that gifting big teams slots in the Champions League would maintain the tournament's role as an incentive. What's more likely to make United buck up and shell out the necessary money to get better: fans constantly on their backs because of the team's underperformance and absence from the Champions League, or a relaxed, stress-free environment where Champions League play and untold riches are guaranteed to them regardless of how many better teams are out there? How can you even call it the Champions League if it doesn't matter whether anyone is an actual champion? The UCL would turn into another uncompetitive cash-grab tournament. Stillitano's grand plan to squeeze more money out of the Champions League would simply ruin it.
These point-by-point refutations are, of course, besides the point. Stillitano isn't actually advocating for coherent structural improvement; his only goal is to rig the system in such a way that maximizes the profits of his brand partners while simultaneously eliminating as much risk as possible. It stands in direct opposition to the open system that created the very environment for Man U and Liverpool to become two of the biggest brands on the planet.
In that way, though not in others (a quick look at the Lakers' position in the Western Conference standings will prove that American sports do not insure success for its most marketable teams), Stillitano is right that what he seeks to bring to Europe is a more American style of thinking about sports. In America, sports really is just business. Franchises are assets to be grown and flipped for a profit. Specious ideas of dubious efficacy about longterm strategies for success can convince fans that rooting for a bad team to get worse is actually perfectly fine. Owners can hold the locals hostage, demanding that fans pay them hundreds of millions for new stadiums or else they can kiss their team goodbye. Over here, the team owner and his bank account really are king.
In Europe, by contrast, the sport, the players, and the communities from which the teams emerge still find validation through the concept that the game has its own intrinsic worth, regardless of what the bean counters at Forbes say. No one not drawing a paycheck cares whether United could rake in 20 percent more in commercial revenue if the current mediocre team was promised Champions League play next season; what fans want is for a team that is good enough to earn their way into it. No one believes Leicester's place in Europe is somehow tainted because the team's Facebook page has fewer likes than Liverpool's; what matters are the points on the table.
The reason why this dumb guy and his dumb thoughts struck such a nerve is because fans of European soccer will instinctively go to the mattresses over even the mention of turning the Champions League into a sponsorship-maximizing, big team-favoring, rigged tournament like MLS or the like. United and Chelsea might hear Stillitano say things like "Gent don't deserve to be in the Champions League, you do!" and "I know a way to make the game less competitive so that you can make even more money like we do in America!" and find themselves convinced. The fans, though—in England and Europe and even in the U.S.—are not having it. That the fans' collective voices scream out so loudly against these ideas, at least for now, is why we can hope they will never be implemented.
Photo via AP
---
Contact the author at billy@deadspin.com.