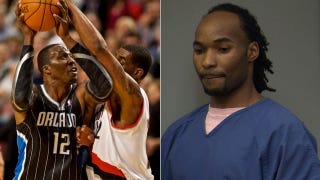 On a January night in Portland, Quincy Wynn pulled up to a crosswalk He was waiting for pedestrians to cross the street so he could make a right turn on red, but he thought one of them was moving too slowly. He yelled at Josiah Kuehl, a 15-year-old high school student walking home from a wrestling tournament. Kuehl was listening to music and couldn't hear Wynn, and asked, "What?"
Wynn hopped out of his Toyota and chased Kuehl to a MAX light rail station. Surveillance video shows him punching Kuehl, dragging him on to the train tracks, kicking him in the head, and leaving him there.
A two-month manhunt ensued, and Wynn was arrested. It finally emerged why he was in such a bad mood:
His girlfriend was inside watching the Blazers play the Orlando Magic. She'd made a sign proclaiming her affection for Orlando player Dwight Howard but she left it in her car, and arena security wouldn't let her return to the game if she left to get it. So she phoned Wynn, asking him to travel to the arena to retrieve the sign and meet her at the exit.
Wow, okay. To be fair, if dude's girl is going to proclaim her love for a visiting player, at a game dude's not even at, dude had some legit issues he was working through that night. Obviously not an excuse for leaving a teenager for dead on the train tracks. But if Howard does end up in the Western Conference next season, while Wynn is serving a 40-month sentence, he probably shouldn't expect her to wait for him.
North Portland driver kicked 15-year-old in head on MAX tracks, gets 40 months [Oregonian]
H/T Ben