Dwyane Wade heard it all. He heard LeBron not-so-subtly call him out after Game 5, saying he needed more help. He heard Reggie Miller call the team "the Miami Cavaliers" during Game 6. Wade responded, grumpy knee and all, with his best game of the postseason. This is how a superteam is supposed to work.
Minutes after the final buzzer, Wade told Craig Sager that "the first six games didn't matter up until this point," and you wanted to reply to your TV screen, we know you felt that way, we've been watching.
Before putting up 21 points and nine rebounds (both playoff highs) in a blowout Game 7 that sent the Heat to their third straight finals, Wade had been nearly invisible. The little things had been there, the tricks and bonuses that'll make him one hell of a wily veteran in not too many more years, but the offensive game wasn't. He refused to, or was unable to drive. He settled for contested jumpers. He was, to put it in terms that make LeBron jolt awake in a cold sweat, the supporting cast.
So James popped Wade into a time machine, back seven long years to when Wade carried his supporting cast to a championship. He did it by forcing Wade to think offense first—and it's no surprise Wade took 16 shots, more than he's attempted in a game since March.
LeBron took just one shot over the game's first eight minutes, consciously distributing to Wade and Bosh. He drew up the very first play of the game for Wade.
"LeBron was like a coach on the floor," Wade said. "To call sets, to put us in situations where he felt like I would succeed early on was pretty good … he understood, as all of us [did], we weren't going to win this game with just LeBron being amazing."
G/O Media may get a commission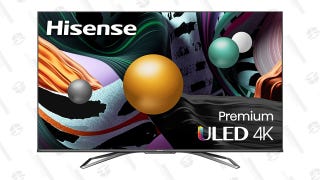 Save $350
Hisense ULED 65" Android 4K HDR Smart TV
Wade's mind was eased on the defensive end too. For most of the series, he had covered the star-in-the-making Paul George, but before Game 7, James volunteered for the hazardous assignment.
"I told him, 'I'll take Paul George.' I'll allow him to focus on his offense and not have to worry about stopping Paul George every possession."
If this sounds like it's just feathering LeBron's cap some more, it should—he's the best player in the game, and he shows it so many ways. But it's also the entire concept of the superteam: no one can do it without help. And James's deferrals wouldn't have meant a thing if Wade hadn't responded to the opportunity, cutting to the basket, going coast-to-coast after a steal, looking for second-chance points (six of Wade's nine boards were on the offensive glass). And when Wade strutted back up the court, arms raised, after a fourth-quarter dunk, he looked a little familiar.
"Tonight, he was like his old self," Mario Chalmers said.
For one night only, perhaps. Still just 31, Wade has the sort of wear and tear on his knees that add years to an NBA player's game. These outbursts are becoming fewer and further between for him, and it's a legitimate question if he can still do it at will—or if the Spurs will let him do it at all. But Miami is just four wins from a championship, and knees and backs just have to hold up under the pain and pressure for another two weeks. One series to see if Dwyane Wade still belongs on a superteam, or if it's time for him to join the supporting cast.