Judging by the countless professional photographs and edited montage videos that tend to come out of these productions nowadays, Dwyane Wade had a more expensive and corporate-sponsored birthday party than you this year.
Sorry, but it's true. Rick Ross rapped "I'm A Boss" with an eager LeBron James, a very expensive car descended from an airlift, and Kelly Rowland did her best Marilyn Monroe impersonation for her rendition of "Happy Birthday"—all in the name of Wade's 30th year on earth. This might have been the best episode of Super Sweet 16 that was never filmed.
The obvious takeaway here is that birthday parties are much more fun when sponsored by huge companies (and preferably ones that sell liquor) like Dom Perignon and Belvedere. It also helps if your friends happen to be hugely successful rap and R&B artists. Rick Ross, Common, T.I., Fat Joe, and Kelly Rowland were all in attendance—most performed, too—and the party featured "sounds by" DJ Irie.
But before there were sounds, a $230,000 custom McLaren MP4-12C (designed by Wade) appeared in the sky, which must bring joy to a person. Enough joy to eventually compel Wade to slide across the stage in a move he may have learned in third grade tap-dance lessons: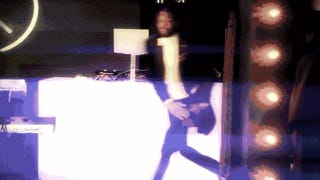 Once is enough, Dwyane. Let's never see that move again. Even on your 31st.
H/T Eye On Basketball, TMZ. Photo via.