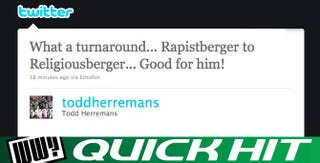 Herremans, who tweet-farted a few months ago when he complained about True Blood's sneaky "barrage of homosexuality", set himself up for another apology pretty soon with this one.
For those of you who don't know about Roethlisberger's engagement plans, I encourage you to revisit the slideshow of slideshows explaining slideshows which made the rounds soon after Christmas. After that, your guess is as good as mine about which hot new religious pill he swallowed this past season to get his sunshine back.
****
Thanks for your continued support of Deadspin. Hickey is climbing up the watchtower.