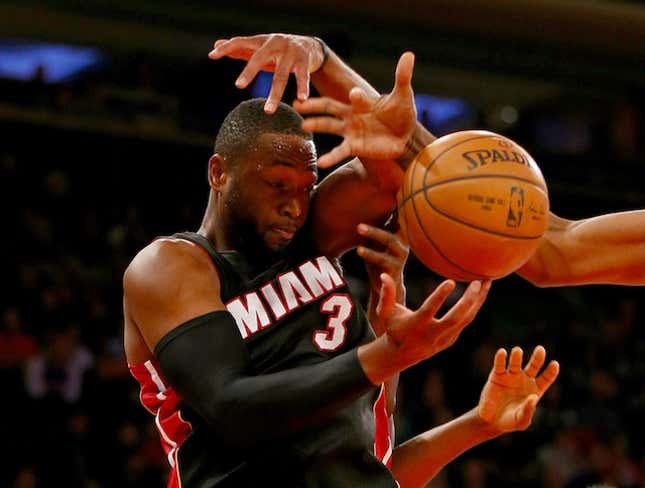 The first half of last night's game between the Oklahoma City Thunder and Golden State Warriors was the most entertaining stretch of basketball I've watched all season. It began with Kevin Durant raining fire on everyone's head, going 10-of-13 from the floor and scoring 30 points in 18 minutes before leaving the game with an ankle injury. (I remain convinced that he would have scored 150 if he hadn't gotten hurt.) It ended with Steph Curry doing that thing he does and erasing a 17-point deficit. The score was 65-63 in favor of the Warriors at half, and anybody watching the game probably felt the urge to sneak out for a cigarette during halftime.
Jokic? Embiid? The NBA MVP is obvious... right? | Keep it a Buck(et)
Before the Dubs and Thunder tipped off, Anthony Davis went out and scored 30 points, grabbed 14 rebounds, and blocked six shots against the Houston Rockets. It was the the third time in the last two seasons that Davis has thrown up a 30-10-5 game, something nobody else in the league has done even once over that same time period. On Wednesday, the Grizzlies and Spurs treated us to what is probably the game of the year so far, a triple-overtime dick-shitter that featured two crazy-ass buzzer-beaters.
All of this is to say: basketball in the Western Conference is fun! You know what isn't fun? Basketball in the Eastern Conference, which needs to just go ahead and get the fuck out of my face already.
By my count, there are five fun basketball things in the Eastern Conference: the Cleveland Cavaliers, the Toronto Raptors, John Wall, Giannis Antetokounmpo, and the very real possibility that Josh Smith will cause Stan Van Gundy to burst into flames in the middle of a game. The rest of the damn conference is a morass of crap basketball fitting descriptions that range from "competent but as inspiring as a dish rag" to "Oh my God, what is this? Please turn off the TV right now."
G/O Media may get a commission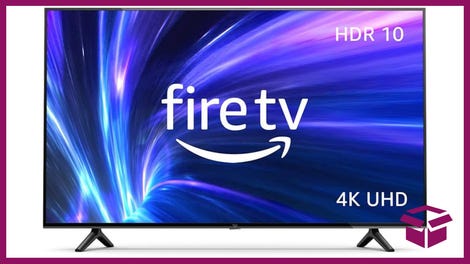 42% Off
Amazon Fire TV 50" 4K Smart TV
The Godless and miserable 76ers are out there slogging through the second season of their self-imposed lockout; the Pacers are attending their own wake every time they take the floor; the Pistons are just as bad as the 76ers but are actually trying to be good; and the Hornets have transformed from a spunky playoff team that was fun as hell to root for into a sluggish crew that is being steered toward the edge of a cliff by their psychotic free-agent signing.
Rajon Rondo's gone, Jabari Parker's torn ACL put a damper on what was shaping up to be a fun season for the Bucks, and Derrick Rose's always-about-to-explode ligaments make it really hard to get jazzed up about the Bulls. The Hawks are pretty good, I guess. Good for the Hawks.
In order to properly understand just how shit-awful the East is when compared to the West, take a gander at these two charts. The first plots the net rating—the difference between offensive rating and defensive rating—of every team in the West. Functionally, zero is an average team.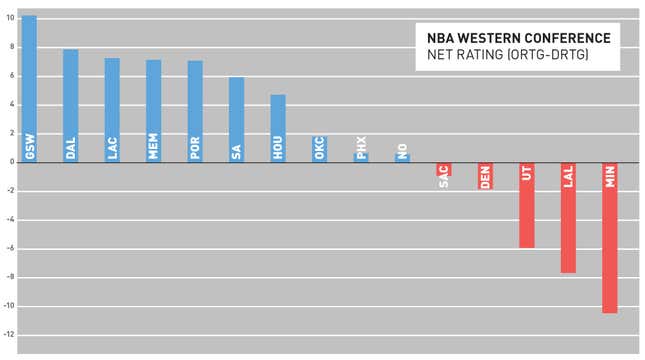 This is what a good conference looks like. There are just three truly lousy teams and a glut of good-to-great teams. This chart will look even better once Kevin Durant and Russell Westbrook have a chance to yank the Thunder out of the mess that their absence left the team in.
Now, here's the same chart for the Eastern Conference: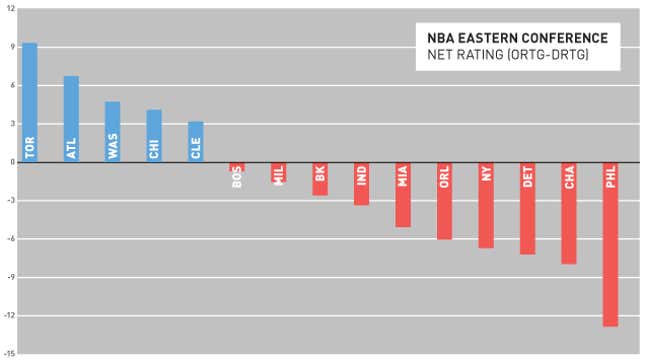 That's gross. Even if you ignore Philly, that big block made up of Charlotte, Detroit, New York, Orlando, and Miami represents one incredibly sad-ass collection of basketball teams. The Eastern Conference is one in which 10 out of the 15 that comprise it cannot even call themselves mediocre. And all of this, of course, is even worse than it looks, because Eastern Conference teams play a disproportionate number of their games against each other. Calibrate all this on an absolute scale and all these terrible teams would look even worse! Coach types are always talking about iron sharpening iron; the Eastern Conference is just a bunch of cotton balls gently laid one next to the other.
This disparity in quality is even harder to deal with when you live in the Eastern time zone, like my dumb ass does. The good nationally televised games, i.e. the ones that feature teams from the Western Conference, usually don't start until after 10:30 p.m. here. Having to watch a full Nets-Bulls game and then falling asleep in the middle of the first quarter of the following Blazers-Thunder game is no way for a basketball fan to live—but that's the way it is for half the goddamn country.
Then there are the Knicks and Nets, two teams that stand as very convincing arguments against living in New York. One of the perks that is supposed to come with living in a large metropolis is proximity to big sports franchises with lots of money to throw around, and, therefore, a better chance at presenting the locals with a quality product. The Knicks and Nets are supposed to be these teams, things that the citizens of New York, people who regularly encounter human feces and pay $1,800 a month to live in closets, can point to as a reason for living here. The Knicks and Nets are both in the red on that chart above. They are not holding up their side of the bargain. Chances are that if you live in a big city in the East, your local team isn't, either. We're all being robbed.
What I'm trying to say is this: Eastern Conference basketball sucks and can eat my butt, and all of those of us who are tormented by it should move. Maybe to, I don't know, Portland or something. Anywhere else would be fine.
Charts by Sam Woolley