Having purchased a Hall of Fame ballot, which we'll be filling out in accordance with the wishes of our readers, we're examining the merits—and relative lack of merits—of all 36 players on this year's ballot for the purposes of better informing the electorate, i.e., you. All entries in the series can be found here.
Edgar Martinez was much smaller than I remembered. Watching old video, I was surprised to see that he was a normal-sized human being: solid and stocky, generating power from a quick twist of his torso rather than a lengthy stride, and nothing like the hulking, righty-Thome type I had in my head. Maybe that's because I was a lot smaller when Martinez imprinted himself on my nightmares. A boogeyman deserves mythic proportions.
The 1995 American League Division Series, which Martinez ended with a double that, as some have it, saved baseball in Seattle, remains the only time in my life a sporting event made me cry. I went to my room and sobbed into my pillow, which I was too old to be doing, and frantically tried to convince myself that it would somehow be overturned. Pine tar, perhaps, or a replay showing that Ken Griffey, Jr. had missed third base. Elisabeth Kübler-Ross would have been proud. But acceptance came fairly quickly. Martinez batted .571 with a 1.000 slugging percentage in that series; of course he was going to doom the Yankees in the fatal at-bat.
To reduce the man to a single moment that ruined countless childhoods is a real disservice to the real Edgar Martinez, though, because my goodness, that career. That's a career. Excellence, constant, sustained excellence, with no sudden spikes and no suspicious down years—just one rock-solid plateau of destruction. Many dismiss his candidacy with the trite "very good for very long" line, but that's ludicrous. Martinez was great for nearly 15 years.
Statistics usually don't tell the whole story, but in Martinez's case, one totally does. Batting average on balls in play is, generally, a measure of luck. A batted ball, on average, will result in a hit a certain percentage of the time. For a batter, that percentage tends to fluctuate wildly from year to year, but with a large enough sample size it remains remarkably consistent, whether over a hitter's career or across the sport in a given year. In the American League, over Martinez's career, that average was .296. Edgar Martinez's was .335. Every full season he played, his BABIP was above the league average. That's not luck. That's the measure of a man who could mash the horsepucky out of a baseball.
G/O Media may get a commission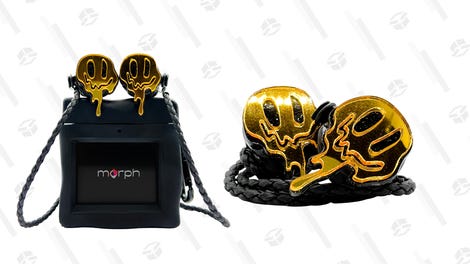 morph audio
Morph Earphones
The greatest influence on BABIP is speed. Martinez was not a fast man. (He wasn't good at much other than hitting; that he started more than 500 games at third base is incredible.) The second greatest influence on BABIP is hitting a ball really hard. Martinez had an enviable ability to turn just about any pitch into a line drive, whether it was turning around on a fastball at the numbers or fishing a sinker out of the dirt to smack off the left-field wall. He had the reaction and bat speed and musculature of a 50-home run hitter, but either consciously or not, traded the long ball for average. (He passed the 30 homer mark just once, while batting above .300 10 times.) He's what happens when a power hitter's trajectory skews lateral.
Doubles, though, don't get you into Cooperstown. Home runs do, as do triples, and even singles in volume. The double is the unloved, underappreciated backbone of a rally, a workmanlike game-changer, yet no one builds statues to men who knock the runner in from first. Martinez won't make the Hall of Fame, because as doubles-hitting designated hitter, he's already got two strikes against him.
Here's a statement that becomes less controversial each time you read it: Edgar Martinez is the greatest designated hitter who ever lived. Yes, better than David Ortiz, despite the fact that Ortiz has six Edgar Martinez Outstanding Designated Hitter Awards to Martinez's five.
Grant Brisbee uses Mariano Rivera—who once said of Martinez, "I couldn't get him out... He had my breakfast, lunch and dinner"—to perfectly point out the absurdity of position bias. Purists be damned, the DH has been in the game for 40 years, much longer than the universal adoption of a closer. In what twisted, inadequate Hall of Fame is the best player at his position's history not honored? But a plaque doesn't say a thing about how a player truly affected the game of baseball and the people who watch it. Edgar Martinez made a child cry. Nobody hit harder.
Art by Sam Woolley
---