Emma Coburn kicked at just the right time.

Coburn sped away from the pack at the final water jump, winning the 3,000 meter steeplechase at the IAAF World Championships today. Her time of 9:02.58 set American and championship records, and she is the first U.S. woman to win the event.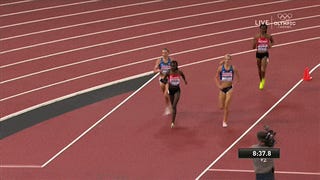 It's been a decent few days for American distance runners. Earlier this week, Evan Jager became the first American to medal in the event at the world championships when he took bronze. Only one man, an FBI agent named Horace Ashenfelter, has won a world title in the steeplechase (at the 1952 Olympics). Meanwhile, Amy Cragg took third in the marathon, and Jenny Simpson took second in the 1,500 meters.

Taking second in the steeple was another American, Courtney Frerichs. Her 9:03.77 time took nearly 16 seconds off her personal best, and she joined Simpson in having a great post-race celebration after crossing the line.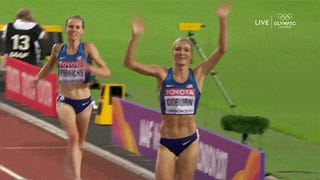 The U.S. leads the world championships, which run through Sunday, with 23 medals and 8 golds.
[Olympic Channel]