The College Basketball Closer is written by the gang at Storming the Floor.
So, ESPN The Magazine has released their list of Academic All-Americans, and it looks something like this:
First Team
• D.J. Augustin, Texas, 3.64, Education
• Adam Emmenecker, Drake, 3.97, Business and Finance
• Justin Hare, Belmont, 3.87, Exercise Science (Pre-Medicine)
• Jack Leasure, Coastal Carolina, 3.82, History
• Brett Winkelman, North Dakota State, 3.84, Industrial Engineering and Management
Second Team
• A.J. Graves, Butler, 3.35, Actuarial Science
• Bryan Mullins, Southern Illinois, 4.0, Finance
• Drew Neitzel, Michigan State, 3.27, Interdisciplinary Humanities
• Joe Reitz, Western Michigan, 3.72, Finance
• Mike Schachtner, Wisconsin-Green Bay, 3.81, Psychology

Third Team
• Ryan Bright, Sam Houston State, 3.59, Kinesiology
• Matt Nelson, Boise State, 3.52, Business
• Greg Paulus, Duke, 3.30, Political Science
• Alex Ruoff, West Virginia, 3.79, History
• Drew Streicher, Butler, 3.95, Chemistry (MBA)

• Academic All-American of the Year: Adam Emmenecker, Drake
QUITE FRANKLY, the logic escapes me. Bryan Mullins ended up on the second team after getting a 4.0! Are they factoring in Strength of Schedule and RPI? Wins and Losses? U.S. News & World Report College Guide ratings?
And Neitzel... c'mon. We all studied Interdisciplinary Humanities. Pick a major, big fella, Emmenecker's got four, fer chrissakes. Borrow one of his.
Speaking of Emmenecker, at STF we started wondering how he finds time to excel in the classroom while also starring on the hoops team, and we have a theory. Either he studies while using the restroom, or he's given up going to the restroom all together. Which would really explain the urgency in his game. We were also scandalized at the lost .03 in his GPA. Sounds like somebody tried the old "The Bulldog ate my homework" excuse one too many times.
G/O Media may get a commission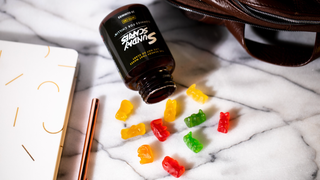 10mg CBD Gummies (22-Count)
Personally, I think if a guy can get a 4.0 in Welding, he should go on the list. Welding is a more valuable skill than analytical discourse any day. Unless, of course, you want a job writing a Closer.
In all seriousness, good for these guys. As the NCAA reminds us, most of our basketball heroes end up "going pro in something else", and these guys have a nice head start. The fact that you could make a kick-ass all-star team based on basketball ability out of this list makes it even cooler.
• Oliver's Army Are On Their Way. Clemson 79-Miami (FL) 69. Littlejohn Coliseum was the right place and the right time for the Tigers, who solidified their tenuous grip on 3rd place in the ACC behind a 19-point effort by K.C. Rivers. Clemson has a deeper bench than one might think - five players average double figures in scoring, with Demontez Stitt not far behind at 9.1 per. Looks like it's up to someone else to "pull a Clemson" this year. See Below.
• Pop! Rhode Island 68-George Washington 85. "I'm not gonna lie to ya, Upstate. It's bad, real bad. We can let you have a few minutes with him before the end, but then we're going to have to let the Padre administer last rites." This is my way of saying: Maybe next year, Rhody. Losing to a team with a 9-14 record is a sure sign you're not in the right headspace for the NCAA tournament.
• Anchors Aweigh. Navy 83-American 68. The United States Naval Academy hasn't sent a team to the NCAA's since 1998, but it may surprise you to know that they've been there more often than any other service academy, amassing an 8-12 record in eleven separate tourneys. Army has zero appearances on the big stage, and Air Force has just four losses to show. This is the long way of saying that the Midshipmen have pulled into a tie with American atop the Patriot league. Since they swept AU, they also own the tiebreaker. Verrry Innnnteresting.
Tonight's Big Games
• Notre Dame (21-5) at Louisville (22-6). According to the Associated Press, Rick Pitino has no idea which defense to use against the Irish. If he wants to stop Luke Harangody, he may have to resort to a pitchfork-waving mob of villagers. The Beast continues to shore up his 20/10 average for the season, due in part to the speed and finesse of his teammates. Louisville is riding a seven-game win streak and playing at home, so this ought to be a doozy.
• Michigan State (22-5) at Wisconsin (23-4). The Spartans gobbled up Penn State and Iowa in their past two games, but now it's time to pick on someone their own size. Wisconsin, on the other hand, seems to be able to handle anyone in the Big Ten not named Purdue. This game is in Madison, where I'm pretty much expecting Steve Lavin and Brent Musberger to purchase a nice summer cottage together at this point.
Eric Angevine writes about college basketball for Storming the Floor and CAAZone. He can be reached at stormingthefloor@gmail.com.