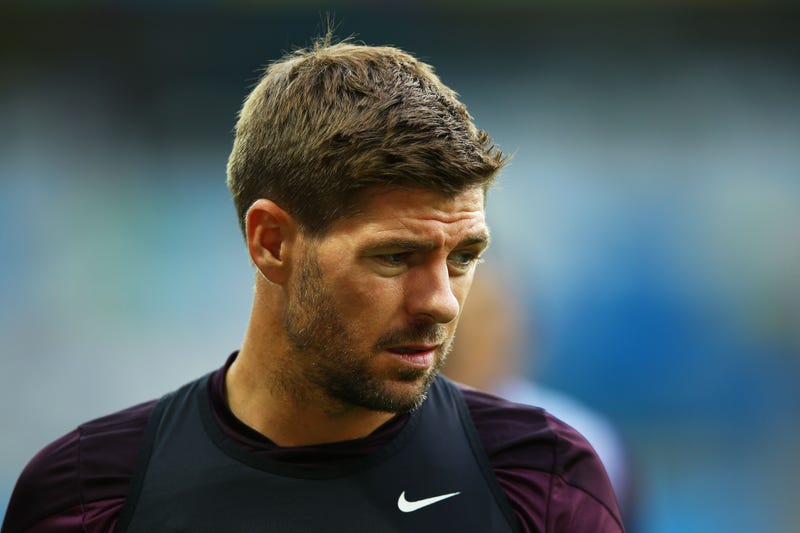 The new dawn, the changing of the guard, a new broom to sweep England clean. Call it whatever tired sporting cliché you like—this World Cup was meant to be the start of an exciting new era for the England team. The 1996 European Championship that so nearly ended in glory was meant to be the spark that set English grassroots soccer aflame, creating a new generation to drive England to glory three decades after their only international trophy. All things going to plan, this generation would flower exactly around the time of the 2014 World Cup. It was never meant to look like this.
Eighteen years on, Steven Gerrard's the old man in a squad that's seen some of the most talented and decorated players in English history come and go, with nothing more than quarter-finals to show for it. The new generation is here, but they look precisely like the old generation, with Gerrard the terrible link between the two. Shorn of the explosive pace and endless stamina that made him one of the best midfielders in Europe, this version of Gerrard was meant to be the steady, experienced hand on the rudder in a new-look England, the man who's been there and done it all.
That was the plan, anyway. In reality, Gerrard's World Cup was an absolute disaster, offering the defense no protection from his midfield station, overhitting pass after pass, capping it off with losing his head in the Uruguay game and getting booked for the sort of tackle a rash teenager might be expected to make. At the exact moment in a game we needed a calming influence, we got the same brainless idiocy we've had for the last 18 years.
In the end, it was the England we've had since 1996—a lethargic headless-chicken outfit, who, when faced with adversity, collapse as fast as possible. It's not a case of personnel; no one can deny that England have had collections of players that were far better than results suggested. As this World Cup is so rapidly proving, however, it's not about the names you have.
Costa Rica, led by an Arsenal striker who's never played for Arsenal and a misfit who couldn't make the relegated Fulham team, have fired their country into the second round by beating two of the most fancied nations in the competition. England, led by the core of a free-scoring Liverpool team that was almost EPL champions and the only Manchester United player to come out of last season with any dignity, lasted six days. Here's what Costa Rica does better than England, and why tomorrow their game will be a victory parade while England's will be a funeral for the last man standing of a wasted generation.
Peg/hole issues
While Costa Rica plays a team of players who, shock horror, are adapted to their on-field position, England has a bizarre habit of trying to cram the best players into the strangest systems. Take England's opening game against Italy. Starting with Daniel Sturridge leading the line, England had two wingers, in Wayne Rooney and Danney Welbeck, who are also strikers (and in fact two strikers far less inclined to drift into the channels than Sturridge) and a No. 10 in Raheem Sterling who's more used to playing out wide.
Not only does that create instability and confusion at the business end, it has a knock-on effect, as was seen when a hapless Leighton Baines was left in a 2-on-1 situation approximately 16 billion times, capped off by the Italians' winner coming from an overlap down his side. Strangely enough, wingers are trained to stop that sort of thing happening. Strikers aren't.
It's not like this is a new problem for England. Years of experimentation with the best way to shoehorn Gerrard and Frank Lampard into the side at once led to Paul Scholes playing on the left wing, which must go down as one of the worst crimes ever committed in international football.
Mentality
There's an arrogance to English soccer that you just don't see in other international sides. While other international teams seem to exhibit a spirit of "we can do this," England exhibits a spirit of "I can do this." While both are inherently positive, the difference between those two thoughts in a team sport is a chasm.
Next time England is up against it, take a look at the decision the player on the ball makes. They're either going to try to beat two players and run into a dead end and lose the ball, try to play a 50-yard pass and overhit it and lose the ball, or take a shot, which will miss, and lose the ball. Adversity doesn't make England play better as a group, it makes them splinter into pieces, and while those pieces believe they can fix everything that's gone wrong with the game, they just can't, and they're too arrogant to realize they can't. Gerrard and Lampard, with long passes and shots respectively, were the two worst for this problem, but that's not to say the new generation haven't already caught the bug, on the evidence of the Uruguay game.
Club over country
There's a very popular argument in England that says the national team is bad now because the league is flooded with foreign imports. That is absolute xenophobic horseshit. England were still terrible when the league was 99 percent English. Ask any Englishman who remembers the failed qualifying campaign for the 1994 World Cup and the horrors contained within.
There's a problem with the league being the most high-profile in the world, however. As the English are too arrogant or lazy to broaden their horizons and go overseas to play soccer, they all, to a man (apart from the third-choice goalkeeper), ply their trade in this hyper-important league. Given that, the England team suddenly doesn't look so appealing. Once you've taken the attitude that playing for England isn't worth as much as playing for your club, then where are you? Knocked out the World Cup after six days, probably.
Until all of these problems are resolved, it's going to be a rough ride being an England fan at a World Cup. Public expectations for 2014 were much lower than in previous years, but Roy Hodgson and his men managed to limbo straight under that bar anyway. The new generation was meant to be an exciting break from the past and play without fear or arrogance, but really, nothing changed.
---
Gavin Cleaver lives in Dallas, via North London. When not writing for the Dallas Observer, he spends his days despairing at the state of the Watford team. You can find him on Twitter @EnglishmanInBBQ.

Screamer is Deadspin's soccer site. We're @ScreamerDS on Twitter. We'll be partnering with our friends at Howler Magazine throughout the World Cup. Follow them on Twitter,@whatahowler.
Photo Credit: Getty Images