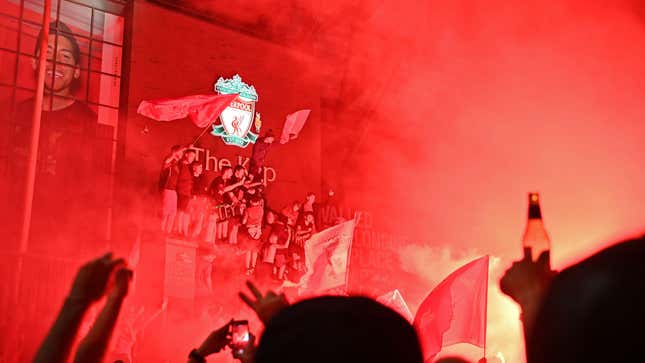 There were many distasteful, if not outright disgusting, angles to the attempted creation of the European Super League two years ago. One of those lurking beneath the destruction of the entire structure of European soccer or the naked and unfathomable greed was the awkwardness of the English clubs' inclusion and excitement at first to be involved. Because the Premier League is, essentially, a Super League already.

Erling Haaland set to break records | Premier League
The league's global popularity, thanks to being ahead of the curve on both domestic (and especially) international TV deals, has launched it leaps and bounds ahead of the other top five European leagues. As such, for the foreseeable future when the lists of the top 12 or 15 richest clubs comes out annually, along with the biggest spenders list in the transfer market, seven of them are going to come from England. Maybe more. While the Saudi takeover of Newcastle is gross on a host of levels, there's a reason that a mid-to-relegation-threatened club in England is a different thing, and a wholly more attractive one, than one in Spain or Italy. The Saudi PIF wasn't coming after Spain for a reason.
The start of the fall
Of course, what the big clubs in England were trying to avoid is that there are only four chairs for the Champions League (soon to be five) for seven asses. Thanks to the Saudi money, but more to Eddie Howe's management at Newcastle, the club is now a Big 7 in the Premier League. Three teams every season aren't going to get the Champions League money that fuels how all of these clubs are run and budgeted. And as Chelsea and Liverpool are finding out this season, as Spurs and Arsenal and Man United have found out in the previous ones, the margin of error that takes you from enjoying the open bar to getting DJ Jazzy Jeff'd out into the alley isn't all that big.
While their fans would be loath to admit it, the similarities between the two are pretty striking, especially right now. Liverpool supporters would point to first Roman Abramovich's endless cash reserves and now Todd Boehly's being no less bottomless, it's not like Fenway Sports Group (FSG) are paupers. But the main point is that just two and three years ago when Chelsea were winning the Champions League and Liverpool the Premier League (or nearly pulling off the Quadruple last season), everything for both teams had to hum at its maximum level.
They may have weighted it on opposite sides, but go through the successful teams at Anfield and Stamford Bridge and you'd be hard-pressed to find a player that wasn't playing at or very close to the best soccer of his career. While Liverpool depended on being on a knife-edge defensively that Virgil van Dijk always kept them on the right side of, and Thomas Tuchel kept Chelsea on that same edge in attack — always finding the one goal they needed, it always worked. It was a high-wire act for both, and yet because everything was humming so thoroughly, they never fell off.
Until now. Chelsea are 10th in the league, and just got booted violently from the FA Cup by something resembling Man City's b-team. Liverpool are sixth but seven points adrift of the Champions League places and barely hung on to get a replay in the FA Cup against Wolves' (20th in the league) b-team. And both look like they've cycled out in the most important area.
Old man take a look at my midfield
Both teams' problems stem from the fact that both of their midfields have gotten old and slow. Liverpool's success was based on their midfield simply outworking everyone, suffocating everyone, and recycling the ball back quickly to their devastating frontline. Whenever they lost the ball around the opposition box, opponents didn't even have time to look up before Jordan Henderson or Gini Wijnaldum or Fabinho were up their asses. They either created an immediate turnover right outside the box or just caused a wild clearance for Liverpool to collect the ball and start again.
The midfield didn't really require creativity or invention, a deficiency that was partially corrected by the signing of Thiago in 2020. And it's not that Thiago can't press and harass, it's just not the sharp end of his game. But even though he can, he has the same problem Henderson and Fabinho have now. He's old. He's slower. They just don't get there. Defenders now have time to pick out passes into (or simply through) Liverpool's midfield. Fabinho is good at picking off passes made under duress. He's not good at tackling players who have the ball already, and isn't all that quick. It's a runway in the middle of the park.
Chelsea's problems aren't all that different, even if they were asked to do different things. Jorginho and Mateo Kovačić have a lot of miles on them. N'Golo Kante can't get on the field very often. Neither can Ruben Loftus-Cheek. Connor Gallagher can't pass. Chelsea never pressed like Liverpool did, but their midfield can't catch up to whatever an opponent is doing either. Anyone can play around or through them with a Chelsea midfielder a step or two away from making an interception or tackle. They're behind everything.
Injuries haven't helped either team, as Chelsea are without 10 first-team players currently and Liverpool have had to navigate injuries all over the field, currently without van Dijk, Luis Diaz, and Diogo Jota for now. But the roots are the same.
And their solutions are the same apparently, which are wide of the mark. Liverpool signed Cody Gakpo at the start of the month. Today, Chelsea have come to terms to loan Joao Felix from Atletico Madrid for the rest of the season. Both are attackers that can fill current injury gaps at forward. Both are not midfielders. There may not be quality midfielders to get in January, but that's what faces each.
But this is what will happen in the Premier League for the foreseeable future. Lose 5-10 percent off your engine, and you'll get passed. Now it's Newcastle and Arsenal operating with everything in the green. Man City are the only ones who seem bulletproof and never need a pitstop, due to either Pep Guardiola's management or their Scrooge McDuck vault or both. Man United may have been a basket case before, but Erik Ten Hag is not a moron and has them on the up. That's all it takes.
Chelsea are an example that all the money in the world isn't a guarantee. Liverpool are an example that progressive management and roster-building aren't either. In the Premier League, everything has to operate at max to stay in the top four. As soon as the operation starts shaking and something springs a leak or starts overheating, another club is immediately getting bigger in your side mirror.