Because no one reads the newspaper, and SportsCenter's anchors are too perky for this early in the morning, Deadspin combs the best of the broadsheets and internets to bring you everything you need to know to start your day.
•Shaquille O'Neal is being sued by his former IT worker, who claims Shaq hacked his mistress's computer, planted child pornography on the employee, then threw his own computer into a lake to hide the evidence. O'Neal will plead not guilty by reason of Shaqness.
•Ryan Grant, who I was totally about to take in my fantasy league before the guy just ahead of me stole him, is out for the year with a torn ankle ligament. He would've still been a better pick than my consolation prize Shonn Greene.
•Division races! San Diego and Philadelphia put a little distance on their pursuers, while the Yankees slide back into first. Meh, the NFL divisional races are still much closer.
•It's always fun when a former first round pick can't hack it in a running-back-by-committee situation. Laurence Maroney was traded to the Broncos, where they're praying everyone stays healthy and they never have to use him.
G/O Media may get a commission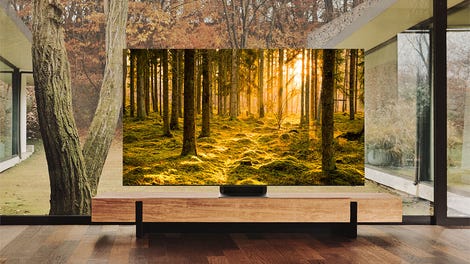 Up to 40% off
Samsung Smart TVs
•I wasn't aware we had to defend ourselves, but here's a piece making the case for football as an intellectual pursuit. I would agree that football games are things of uncommon beauty and a thinking man's sport, a ballet of tens of moving parts working in sync, a bastion of strategy, and a fount of American history. Well, not that Jets/Ravens game. That was garbage.
•Here's a study that claims that increased attendance causes baseball teams to score more runs. So, you know, maybe the Marlins do need that new stadium.
(Pic via)
•••••
Good morning. Coffee please.