Enzo and Cass were mostly a shtick, but that shtick was pretty good.

I first saw Enzo and Cass at an NXT show in Upper Darby, Pa., two years ago. I don't regularly watch NXT, but I like going to wrestling shows with my friends enough that I usually see it when it comes around. I knew basically nothing about Enzo and Cass, and I was confused when everyone in the arena recited their long intro shtick alongside them. I didn't get it.
I saw Enzo and Cass two more times live, and by that third time—at a show in, of all places, Asbury Park, N.J.—I think I got it. It was kind of fun to chant along with, at least for a little bit. They were a team at shows you could count on to hype up the crowd up a bit. Acts like that are fun to see live.
Enzo and Cass, who'd been teaming since 2013 in NXT, got called up to WWE Raw the day after WrestleMania last year. It was a pretty eventful year in WWE: Enzo got a serious concussion in a match; they teamed with John Cena; they had a match against Chris Jericho and Kevin Owens at SummerSlam; Cass even wrestled in a four-way elimination match for the WWE Universal Championship.
But it was time for the partnership to end, apparently, and last night Cass turned on Enzo and booted him in the face. As tag team break-up angles go, it was pretty silly. Over the past few weeks, both Enzo and Cass have been attacked backstage on Raw. To get to the bottom of this, Raw GM Kurt Angle held a main-event segment where he brought out suspects and questioned them in front of Enzo and Cass.
It was ridiculous. Why would you question people this way? It was made even sillier when Angle announced that two of the suspects, the tag team The Revival, had been cleared earlier. Why were they in the ring at all, then? (Big Show, another suspect, basically just left when asked if he attacked Enzo and Cass. Somehow this cleared him!) Angle wasn't getting to the bottom of it when announcer Corey Graves announced he had security footage of the attack on Cass.
This was silly, too, especially because the "security footage" played in the arena was doctored to look like an old-style CCTV video. (Security camera footage doesn't look like that anymore!) And why would the announcer have security footage, anyway?
G/O Media may get a commission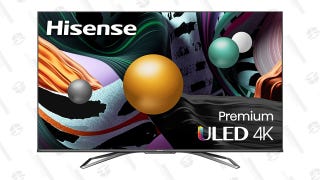 Save $350
Hisense ULED 65" Android 4K HDR Smart TV
But no matter. It turns out Cass was behind it, faking the attacks on himself. The segment then became a classic tag-team breakup angle, and the ending was great. Big Cass gave a long promo on Enzo, admitting he attacked him from behind, telling him he was holding him back from winning titles in WWE and then booted him in the face. Enzo cried while Cass unloaded on him, probably real tears due to the fact he doesn't get to do this bit with his friend anymore. (The segment was telegraphed; Enzo and Cass did their big entrance, which made no sense in reality. But it was nice they got a chance to do it one last time.)
As per Rockers rules, the guy who turns is the one who WWE thinks has the brighter future in the company, and so Cass is now a bad guy. Who knows what will come of the pairing now that they're singles wrestlers. But, much like with Cass's real life girlfriend Carmella and the MITB contract, there are a number of directions WWE can go from here. Enzo doesn't even need to get revenge for a while. Big Cass is more interesting than he's ever been.
The buildup was bad. The segment was stupid until the end. But it still pretty much worked! It's fun when wrestling only needs a few minutes to become memorable.