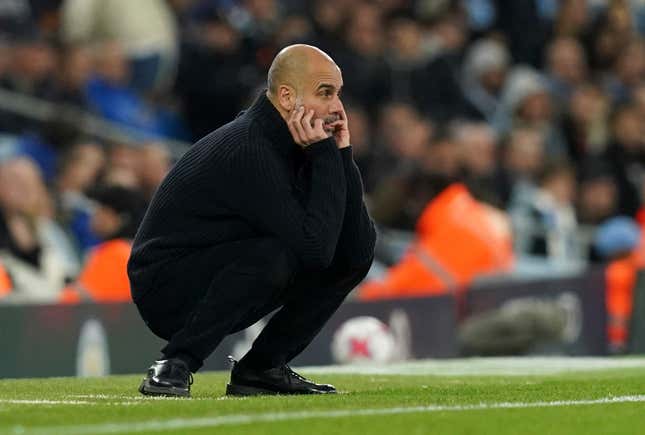 My brother had a college friend who had an overarching theory of Led Zeppelin. This isn't much of a surprise, as I assume college students for some 40 years all had their own theory of Led Zeppelin. I remember telling a friend that I had to have a serious talk with him, made it sound really grave, the subject of which was merely that I thought I had to change my favorite Zeppelin song to "Ten Years Gone." He understood, and we discussed it at length with nary a complaint. To at least three generations, thoughts about Zeppelin took up a lot of space.
Can Liverpool Win The Quadruple? | What You Need To Know | FA Cup
Anywho, the theory went like this: The first four albums, the numbered ones, are the band trying out one aspect of their capabilities (including pretty much stealing songs, but that's another discussion for another time). Zeppelin I is their blues album. II is the first step into more straight-laced hard rock. III is the acoustic album. IV is the bombastic, epic, storytelling album. Houses of The Holy was the band's dress rehearsal to put it all together, and Physical Graffiti is when they put it all together correctly (and Presence is the underrated drug hangover). Take it for what you will, I've always found this thread interesting.
Pep Guardiola's Man City title-winning teams are like Led Zeppelin albums
You can kind of view all of Pep Guardiola's Man City title-winning teams in the same fashion, if you're bored and weird and with far too much time on your hands like I often find myself. The 2018 and 2019 champs were basically his Barca and Bayern teams imported to the Premier League, tiki-taka come to England. The 2021 winners were the apex defensive team, thanks to the implementation of Rúben Dias and the development of Rodri. Last season's conquerors were probably the closest soccer will ever get to positionless basketball, with no central striker and Pep encouraging everyone to be everywhere. This is where he also started to play with João Cancelo moving into midfield from a fullback position when in possession, which is now the fashion in a lot more places.
The first half of this season was about adding the final ingredients or touches. Erling Haaland up top, a fortification of the 3-2-5 formation with the ball, and the pièce de résistance, being able to play on the counter. Previous Man City teams sought to control games by having the ball and having the ball only, with Pep wary of anything else. If they had the ball, nothing bad could happen.
While Haaland certainly didn't make Man City any worse, the first half of the season was a question if he had made them any better. Video game numbers for him to be sure, but City still played basically the same way with him just ending up on the end of everything instead of a rotating cast applying the final touch.
But we saw the final stroke come to the fore in City's demolition of Munich in the Champions League, where much to the shock of everyone, City were more than happy to let the Germans have the ball. They were delighted to play on the counter. Backing up, sitting back a little meant that Haaland suddenly had the space he had become such a terror in with both Salzburg and Dortmund, getting to run directly at defenses. Combine that with Guardiola honing Haaland's game so that his link-up play improved and they could take even more advantage of teams they caught upfield, and you get…well, you get this:
To go back to the basketball comparison, City festooned Arsenal's guts around the Etihad with a two-man game, easily keeping Arsenal outside their castle walls and then springing lethal counters simply through Kevin De Bruyne and Haaland frolicking in an acre of space around the halfway line. With Thomas Partey in need of a compass and Rob Holding being completely overmatched, De Bruyne and Haaland ran wild in the space behind Arsenal's midfield and in front of their defense. It's exactly what they did to Munich.
What this City team is now is the team that can play it any way you want it, which is basically how Real Madrid keeps winning the Champions League. Decide you'll park the bus and keep 10 behind the ball and they'll play around and through you. Want to hit them on the counter and they have two holding midfielders — with John Stones pushed up and in from fullback — to stifle it. Try and press them and they'll either play through that or they can go long to Haaland. Decide you want the ball and try to play your way into it and they can defend expertly and then do what they did to the Gunners. It is everything that Guardiola has spent the past five years creating. It feels like now there is no problem they don't have an answer for.
All that stands between them and a treble is some Madrid Black Magic in the Champions League semifinal, or maybe United in the FA Cup final. United have beaten them this season… but they also gave up six to them. What was it Morpheus said about the agents? "They are the gatekeepers. They are guarding all the doors and they are holding all the keys."
While Arsenal will have trouble sitting down for a week or two after Wednesday's treatment by City, they should take solace that they're here at all. To run with City for even a season you need a deep squad in which 10 or 11 guys are playing the best soccer of their career. Arsenal managed that for three-quarters of the season, but they're just a little young and just a little thin to keep it up over nine months. Once William Saliba got hurt, once Bukayo Saka had a dip in form along with Partey, Arsenal didn't have anyone behind them to step up. Look at City, where they've barely needed Phil Foden or can flip-flop Riyad Mahrez and Bernardo Silva on the right of the attack or Julian Alvarez can be a bit part player or they can just toss Cancelo out of the club for being a prick halfway through and not even notice. That's the size of the challenge.
This is Pep's Physical Graffiti, and Haaland and De Bruyne just authored his "Ten Years Gone." ("In My Time Of Dying" is also an acceptable analogy).
---
Follow Sam on Twitter @Felsgate to watch him come to terms with the Europa League next season.