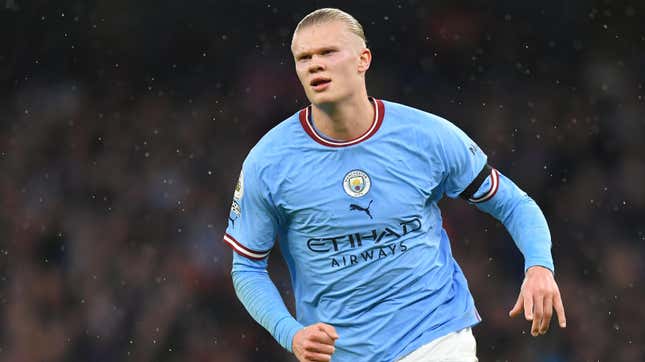 It's admittedly a convenient time to ask whether or not Erling Haaland has made Manchester City a better football team or not, especially if you're not of the Citizen persuasion. Though given my incredible motherfuck powers, maybe this is the worst time to ask.
Erling Haaland set to break records | Premier League
The current reigning two-time champions have kind of labored out of the World Cup break, with a draw and a loss in their four league games since the Premier League restarted. And for Haaland, not scoring in two straight games constitutes something of a crisis, given the Ark-needed rain of goals he usually provides. It's especially poignant after City were turned over Saturday in the Manchester derby by United 2-1, a reverse that could see them as many as eight points behind leaders Arsenal when the weekend's games are over and only holding off the red half of Manchester by a point for second.

But with City's usually purring death machine spinning in the mud a bit at the moment, we'll take advantage of the opening to ask: Are City better off with Haaland?
What's the problem with Man City?
According to the most surface numbers, no. After 18 games last season, City had 44 points, had scored 44 goals with a +35 goal-difference. This season, with 18 games in the book they have 39 points, scoring 46 goals with a +28 goal-difference. So slightly more goals, but not the same amount of wins, or points, or dominance.
Digging a little deeper, after 18 games last season, City had scored those 44 goals on 45.4 worth of expected-goals. So they were scoring the exact amount of goals that their chance-creation suggested they should be. In this campaign, Haaland is the main reason that City have outscored their xG — 46 goals from 36.3 expected goals — which is the benefit of having the world's best finisher on your team, the margin of error he provides, because he'll always outscore what the metrics say he should. But still, this is City, and seeing their chance-creation go down is a bit curious. City usually count on team-wide brilliance, not individual (as weird as that sounds given the amount of individual brilliance they have).
Especially when a game like yesterday's, unquestionably a huge one for City, becomes easy to focus on. Because when Haaland didn't score, he didn't do much else either. No shots on target, two shots, only 20 touches. Which was kind of the same story in City's ho-hum win over Chelsea, where he only had three shots and none on target. Right before the World Cup break, he had a similar performance against Brentford in another loss for City. Compare that with his eight-shot, five-on-target, two-goal performance against the chaos that is Leeds United. He's had the occasional tendency to be something of an obelisk when City have failed to kill off games.
Before you accuse Erling…
However, where Haaland's influence on City's biggest problems comes in is harder to judge. City have had a nasty habit this season of turning off once they get up a goal. They weren't great against United yesterday, especially in the first half, but had gripped the game to start the second half and then deservedly got a goal. And then they just were kind of there.
It was the same story when they sank to a draw against Everton on New Year's Eve. Haaland scored in the 24th minute, and then City only managed two blocked shots in the 40 minutes between that and being equalized. Their draw at Villa was the same story, Haaland scores and then City kind of paw at the opponent with the ball, running out the clock, and getting caught. There aren't many of these games, but thanks to the ridiculous standard City have set the past six seasons or so and the one Arsenal are keeping up this season, there don't have to be many games where you turn off to find yourself off the pace.
However big and whatever the problems are at City (everything's relative, says this Liverpool supporter), Haaland isn't responsible for Kevin De Bruyne still kind of playing with the same look on his face that he had at the World Cup, which was akin to just having stepped in dogshit. It might not have much to do with Haaland that Joao Cancelo isn't quite the force he was last season. Bernardo Silva's goal threat has dried up, though that might be due to playing off of the frontline as he has, at least occasionally, in the past. Ilkay Gundogan can't really escape being 32 now.
But clearly, it's been an adjustment for City to have a center forward who doesn't really contribute in the build-up (though he's better at it than he gets credit for). City's striker-less formations of the past two or three seasons saw an array of movement and passing from their attacking five that no team could keep track of it all. Teams kind of know where Haaland is going to be at most times, whether they can do much about it or not. But his positioning keeps the wide forwards in their spots instead of ducking in and out and all around. Perhaps that's a reason they go a bit stale when trying to kill off a game?
City have also had a habit of falling apart when things haven't gone their way. They were almost certainly screwed at Old Trafford on Saturday when Marcus Rashford was interfering with play from an offside position, even if he didn't touch the ball. But that didn't also require them to then give up a winner while still in their daze. They had a goal chalked off against Liverpool and promptly gave up a pretty hilarious winner on a simple long ball. We know from City's past Champions League dick-in-the-dirt experiments that they can lose it all when one thing goes wrong. But this isn't a team without bottle, as being able to hold off Liverpool two of the past three seasons down the stretch to the last day shows. They're just…kinda weird at times.
It should be said that City and their fans won't care about any of this if Haaland scores the one goal in the Champions League knockouts (that City have never been able to find when they need it) and bring their elongated pursuit of that trophy to a close. One or more additional slip-ups in the league and the Champions League will be all City care about anyway. It should also be pointed out that even with the avalanche of goals Haaland scored with Dortmund, all they ever managed to win was one DFB-Pokal Cup, though obviously a different set of circumstances.
City are still no worse than the second- or third-best side in Europe. It is their own greatness that makes their margin of error so thin. But it is worth asking what side of it their automaton striker has landed them on?