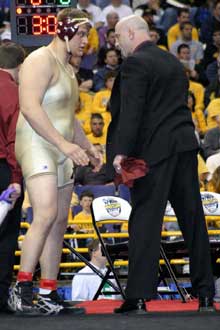 For all the talk that Bill Belichick is a genius — genius with your WIFE! — it's his former assistant Eric Mangini, with the Jets, who's making the real "Look at me, I'm a mad scientist!" moves. Witness the Jets' rookie minicamp, to which Mangini invited two potential Olympic wrestlers. This even though neither has played football since junior high.
"I thought it was a prank call," [Tommy] Rowlands said, laughing. "When I returned his call, it was a voice mail and it said he was from the New York Jets, so I figured if someone was pranking me, they're going to great lengths to make the joke work. At that time, I knew it was real."
Strange thing too: He wanted them as wide receivers. OK, not really.
Mangini Is Pulling Out The Mats [Just Call Me Juice]