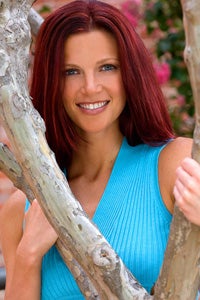 OK, let's get this out of the way and then move on; Erin Andrews has a sister. And we know about her because of Dan Patrick.
Patrick watched the BCS title game with EA and her sister from a private box, a fact that he mentioned briefly on his blog, which caused Busted Coverage to go into full stalker mode because that's what they do. Turns out that Kendra Andrews went to Florida State — which is interesting, since her sister attended the University of Florida — and is now a professional dancer, with no journalism ambitions.
Fun fact: At one time Erin wanted to train whales at Sea World.
So, between Kendra and Barbaro's younger brother, our next generation of SHOTY nominees is shaping up nicely.
DP Named Decisive National Champion [The Dan Patrick Blog]
Erin Andrews Has A Sister Named Kendra And Dan Patrick Got To Hang With Both At BCS [Busted Coverage]
Barbaro's Little Brothers Progressing [NTRA]