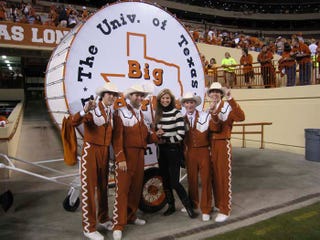 Got an image you'd like to see in here first thing in the morning? Send it to tips@deadspin.com. Subject: Morning crap.
Your wish for a photo of Erin Andrews posing in front of a giant percussion instrument? Granted. Daniel Shiu sent this in with precious few details, preferring to go on and on about the drum.
"This picture is of the Bertha crew of Texas' Longhorn Band with the one and only EA. Bertha Crew takes care of Big Bertha, the sweetheart of the Longhorn band, and considers Erin Andrews the sweetheart of the Bertha Crew." They let her keep the oversized drumstick, which is quite handy for keeping horny louts at a distance, and for beating rugs.
Erin's wardrobe from the Hamburglar Collection.