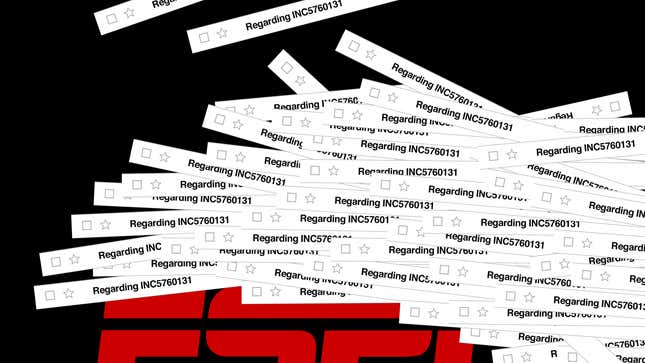 Today we can add ESPN to the fraternity of organizations that has seen its employees thrust into a reply allpocalypse. Witness now some of their journey into the hellish depths.

The mess started when one employee sent an email with the subject line "Regarding INC5760131" to a few colleagues who appear to work in a tech department somewhere in the Disney empire. The colleagues traded a few emails trying to troubleshoot a particular issue, when one of them accidentally added an email list that includes every single ESPN employee to the thread. All those employees were treated to this hard-to-parse message:
Hi Jorge,

I am seeing that you have marked the incident as pending customer in service now and Pending Reason: "Missing or inaccurate information" was "— None —"

Can you please let us know what information is missing?
Ah, what to do when confronted with such a confusing message on a Wednesday morning? Clearly, the answer is to hit "reply all" and clear some things up.
I think you have the wrong David Waters here. I'm in sales at 98.7FM in New York.
I think you also have the wrong Karen. I'm Karen Frank at ESPN The Magazine.
Wrong James also. Please remove.
Wrong Mike Schmitz as well.
Wrong Rodrigo, thanks
Wrong John as well.
Nice work, everyone. Now we're really in the shit.
Take me off this list please
Please remove.
Please stop replaying all.
Please delete me from this thread as well.
Next came the trolls.

Best Email Thread, 10/10. Would reply all again.
Shrimp fried rice got nothing on this.
At this point I'm hoping Jorge eventually tells us all what the missing information was.
Did you try turning it off and turning it back on?
Even some of ESPN's most recognizable talent got in on the fun. Here's Katie Nolan's contribtuion:
I just wanna say you absolutely have the right Katie Nolan and I'd like to be added to all of these emails going forward. Thanks
She was joined by senior writer and frequent Around The Horn guest Mina Kimes:
pete carroll was right to call a pass instead of a run at the goal line

have a good morning
And anchor Max Bretos had a more positive outlook:
I feel this has brought our company closer together , which is quite an achievement .

I wanna take this time to let all of you know , my son won most most improved in his basketball league.
G/O Media may get a commission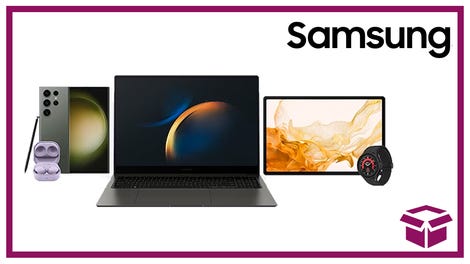 24 hour deals
Discover Samsung - Daily Deal
Elsewhere, desperate attempts to be removed from the email chain raged on.
Wrong Michael Collins.

Please delete me from the thread.
OMG would you please remove me from this list?
Hi all,

Can you please remove me from this emails chain.

Thanks ! Have a great day
Hi all,

I just want to let you know that I can't remove you from the list.

Good luck!
Remove from list please!
Time for more memes. Those will definitely help.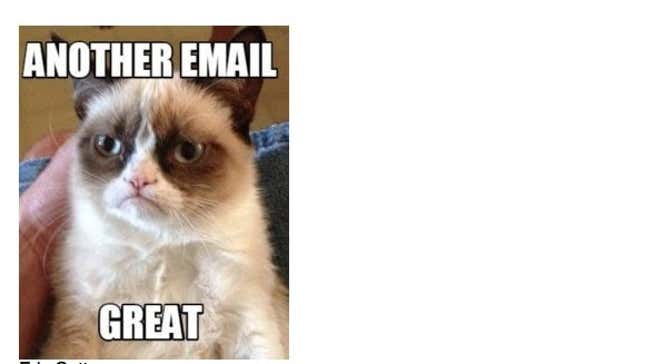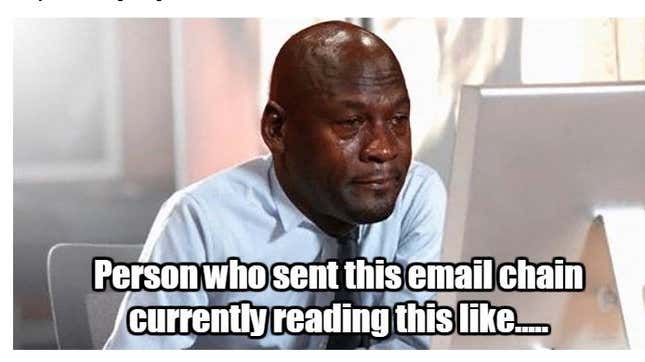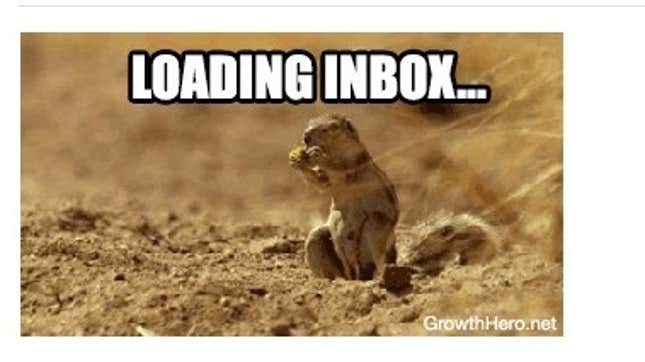 Then things began to snowball.
This is what happens when IT is outsourced!!!!!!!!!!!!
Remove me from this list
I just wanted to inform the group that a hot dog is 100% a sandwich. And that this was a highlight of my morning.
Ummmm… I think u all got got… this is spam?! Just sayin….
I THINK ITS OBVIOUS WE WERE ALL ACCIDENTALLY ATTACHED TO THE EMAIL BUT WHEN PEOPLE KEEP RESPONDING YOU ARE JUST SENDING MORE UNWANTED EMAILS STOP RESPONDING TO THE THREAD PEOPLE
Hi all,

Can you please remove me from this emails chain.

Thanks ! Have a great day
Donovan Mitchell or Ben Simmons for Rookie of the Year?
Is Simmons really a rookie?
Please remove. Thank you!
Resume is attached.
Stop the Insanity it is all wrong. Please stop reply all
What's everyone up to this weekend?
I think a few beers and watching how this thread unfolds Jeffrey.
Please send me the schematics STAT!
How long do you project this will last, Mike?
And on and on it goes. When we last checked with our sources, the email chain was up to 137 messages. Everyone involved in this should be ashamed of themselves, except for Joy, the helpful employee who sent this message under the subject line "**HOW TO STOP THE EMAIL MADNESS**"
Click on one of the emails in the chain (any)....1. Go to rules on top tool bar2. Click create rule3. Click box that says subject contains and Regarding INC5760131 4. Click Move Item to folder: select deleted items5. click OK any time it asks you after that - if it asks if you want to run in current folder, click that little box and it will clear out any that are in your in box

Joy E. Tucker
On-Air Specialist, Motion Graphics

Everyone be more like Joy!