Tony Grossi—a former longtime Cleveland Browns beat writer and current talking head on ESPN 850 WKNR and contributor to ESPN Cleveland—wrote this morning on ESPN.com about the Browns' upcoming decision with the number one draft pick, and how "analytics complicate it." Minutes before the publication of this post the column was taken down; you can see an archived copy here.
Where the piece gets especially strange is when it speculates that the Browns are at the very least basing personnel decisions on Grossi's ESPN colleague Bill Barnwell's columns, and asserts that there's reason to think that Barnwell is secretly working for the Browns. (There really isn't.)
According to Grossi, the obvious thing for the Browns to do is draft Texas A&M defensive end Myles Garrett with the first overall pick and figure things out from there. At least, that was the obvious thing to do "until Bill Barnwell struck again."
Grossi notes that Barnwell's Sloan Conference biography says that he has consulted for NFL and MLB teams, and then writes, "Although there is no mention that Barnwell has served as a consultant to the Browns, the circumstantial evidence is that he has, or does."
The evidence Grossi cites is Barnwell's having consulted for teams; a December column in which Barnwell proposed the Browns absorb Texans quarterback Brock Osweiler into their cap space and acquire a few draft picks for their trouble, months before the Browns made a very similar trade; and the fact that the Browns "failed to fully explain the origination of the unconventional trade"—as if paranoid NFL teams usually give in-depth explanations of the thinking behind complex trades.
G/O Media may get a commission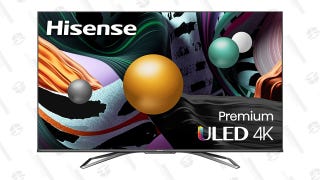 Save $350
Hisense ULED 65" Android 4K HDR Smart TV
If he isn't working for the Browns, Grossi claims, he's at the very least an idiot writer they're jacking ideas from:

So it's not unfair to speculate that the concept originated with Barnwell. Which would mean the Browns are outsourcing major decisions to a football analytics columnist and podcaster with no practical experience in football scouting, coaching or team-building.
All of this is a precursor to Grossi's analysis of Barnwell's latest column, in which Barnwell asserts that trading the first overall pick is often the best move, but concludes that the Browns likely won't do so unless they get a monster offer. Grossi attributes just the idea that they might trade the pick to analytics and reiterates that the "overwhelming consensus among football people"—which seems to include himself and exclude Barnwell, an odd position given that he's asserting the evidence suggests Barnwell works for an NFL team—is that the team should draft Garrett.
Then there is this fun parting shot at Barnwell and analytics:
But Barnwell writes, "Anybody who is certain about what the Browns need to do with the No. 1 pick is more likely to be wrong than the Browns could be."

Ah, analytics – the very definition of paralysis by over-analysis.
Why is Grossi writing a standard blowhard anti-analytics column about his ESPN colleague while accusing him of conducting an undisclosed business relationship with a team he covers? Does Barnwell have an undisclosed business relationship with a team he covers?
Neither Barnwell nor ESPN responded to emails requesting comment.
Update (4:12 p.m. ET): The blog is back up with a new timestamp, but no apparent changes to the text. Still waiting for that comment on what's happening ...
Update (4:53 p.m. ET):
Update (6:37 p.m. ET): Grossi put out a statement sort of apologizing to Barnwell, and sort of explaining what happened.
In my column today on the Browns' draft decisions, I insinuated a professional consulting relationship may exist between them and ESPN columnist Bill Barnwell. To clarify, there is no tangible evidence of that. I did not intend to question Barnwell's journalistic integrity. When I attempted to clarify my thoughts, ESPN did not want it to appear they were censoring the column, so I was unable to make any changes to the original story.
[ESPN]