Everyone in Bristol figured Erin Andrews would return. Andrews told SI's Richard Deitsch:
They wanted me back and a lot of my co-workers thought it was happening. They were expecting I was coming back.
That obviously did not happen. Andrews is heading to Fox Sports.
Two sources told us that ESPN offered Andrews more money to stay (one said it was a big pay increase; another said it was OK-ish). But the one thing ESPN wasn't giving her: additional responsibility. The network didn't trust her to host; she had already been passed over for the Monday Night Football sideline job, which went to Lisa Salters. She already blew her chance with Good Morning America.
G/O Media may get a commission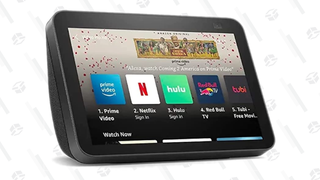 So, ESPN came up with an OK-ish-to-big payday. On Friday, Andrews's reps called ESPN back to say they were rejecting the offer. At that point, ESPN execs didn't know if there were any other suitors. But as far as they were concerned, that was it. That was their best and final offer. Those Guys Have All the Fun co-author Jim Miller reported that ESPN wasn't interested in getting into a bidding war:
A source tells us that Andrews's people were "stunned" when ESPN pulled out of their talks so quickly. But, per Miller, Andrews "never felt spoiled" by Bristol.
Andrews's reps quickly went to work finalizing the Fox deal (a source tells us that Andrews was spotted speaking with executives in the Fox cafeteria in Los Angeles three weeks ago). CBS and NBC had no interest, another source tells us.
Andrews's career at ESPN now looks markedly different than it did even a few years ago. When she got to ESPN—first covering hockey, right after she worked with the Tampa Bay Lightning—her portfolio kept expanding: She got baseball, basketball, college football. One coordinating producer after another wanted her on the air. In 2009, she covered the MLB All-Star Game in St. Louis. At the Futures Game, during a rain delay, someone from Fox Sports greeted her in the press box with effusive praise and some Fox apparel, according to a source. She thanked him and, once he left the room, chucked the shirts aside.
Now she works for Fox, having Peter Principled her way out the door in Bristol. ("No, I'd never hire her," one TV sports executive told us last month. "She can't host. There's no next step.") At Fox, she'll host some sort of college football show. She'll do … something with MLB and the NFL (probably something involving the pre-game show?).
And she said she didn't want to retire.
"It's a different way to expand my role. I'm not tired yet. I don't want to hang it up. I just need to get better and these were different opportunities that I would not be able to find anywhere but at Fox Sports."
Which is perhaps truer than she intended.
Erin Andrews hired by Fox Sports after ESPN contract expires [si.com]