In an interview with the Hollywood Reporter, former ESPN president John Skipper elaborated on the "substance abuse" issue that he had previously said caused his resignation from the network last December. In the interview, Skipper said someone who sold him cocaine (Skipper described this person as a "strange source" from whom he had not previously purchased drugs) tried to extort him, so he decided, in coordination with Disney CEO Bob Iger, to step down.
The interview, conducted by ESPN historian Jim Miller, reads as staged and slightly obsequious at points, but it nevertheless provides insight into and gives a timeline for Skipper's mysterious resignation, which came days after he led an all-staff meeting, and months after his contract was renewed.
But for all the soul-baring—"I hurt my family, particularly my wife, and I forfeited a great job"—questions remain. Did Skipper's cocaine habit, which was established enough that he was willing to risk his security to get it from an unknown source, really not affect his work at all? Skipper claims it didn't while simultaneously admitting that his habit led to "a missed plane and a few canceled morning appointments."
Skipper isn't the first person in sports or media to have a problem with cocaine, which makes it hard to understand why Iger didn't have him take a leave of absence (the head of Disney and Pixar animation was granted a six-month leave of absence in November after being accused of harassing women, which is objectively worse than using cocaine.) Was the extortion attempt simply about the purchase of cocaine, or did something else happen that night?
G/O Media may get a commission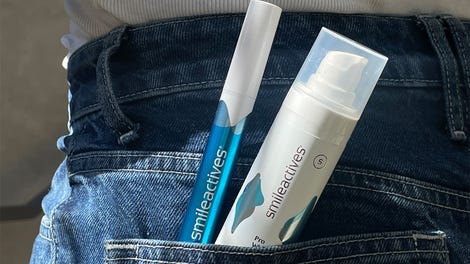 58% off
Whitening Powerhouse Pen & Gel Duo
There are questions about the interview, too: Why didn't Miller ask Skipper about who extorted him? Why didn't Miller ask Skipper to clarify the frequency of his "quite infrequent" drug use? Why didn't Skipper, still reputed to be a relationship-driven professional, alert his former employer that this bombshell interview was going to drop? (ESPN declined to comment on the record for this story.)
I spoke to several prominent ESPN employees about some of these questions. One employee said the information from the interview fits with details previously known to employees, and added that there had never been any indication Skipper's work was affected by his drug use. "The extortion news is surprising but believable. No one I know ever saw Skipper's job performance suffer because of drugs," the staffer said. This person also wondered about Iger's decision to let Skipper go rather than put him on leave: "It also leads me to believe that Iger could have kept him on, but preferred not to."
ESPN had been under intense criticism under Skipper's reign. As subscriptions fell due to cord cutting, the network often seemed indecisive—as evidenced by signing and then canceling a Barstool Sports show after only one episode—and was increasingly under bad-faith attacks from opportunists who sought to paint ESPN as too liberal. Maybe Iger seized the chance to replace Skipper and get a fresh start with someone new.
A different employee wasn't convinced. "I do think is there is more to the extent of the drug stuff than was in the interview," they told me. "I think the extortion is what made [Skipper] come to Iger and say 'this is what's going on,' but I honestly do not believe that there is some deeper ulterior motive."
On the question of how Skipper's drug use affected his work, the second employee agreed with the first: "Nobody had any sign at all that [cocaine] is what it was."
One employee, who described having a "good, professional relationship with Skipper," reacted to the interview like this: "Shocked, absolutely."

A fourth employee described feeling surprised by Skipper's original admission of substance abuse. "I was blindsided," the employee said. "We had just had our all-talent meeting the week before, which he was all over." (Skipper said in the interview that the extortion threat came after the all-staff meeting.)
As for why Skipper decided to come forward with this explanation now, it was likely to quell further speculation about the reasons behind his resignation. The vagueness of his original resignation statement left plenty of blank spaces to be filled in by wild theorizing, further questioning, and even deeper prying into his personal life. If Skipper really did lose his job just because he's a recreational drug user who had the misfortune of trusting the wrong dealer, then he probably would have been better off telling the whole story right away.
Know anything we should know? Contact the writer at laura.wagner@deadspin.com or through SecureDrop for extra security.