ESPN announced last night that it will no longer host a pair of best-trick competitions at the X Games: the Moto X best trick and the snowmobile best trick. ESPN is citing safety reasons and insists that it doesn't have anything to do with Caleb Moore, the snowmobiler who died a week after his crash in an X Games freestyle competition in January in Aspen.
Here's what an ESPN spokesman said last night:
"Moto X Best Trick and Snowmobile Best Trick were not dropped in response to what happened in Aspen. This decision was under consideration before Aspen, and, in fact, our review of Snowmobile Freestyle continues.

[...]

This change reflects our decision to focus on motor sports disciplines which feature athletes who also compete in multiple, world-class competitions [e.g., professional events and tours] reflecting the highest degree of athlete participation, competitive development and the global nature of our X Games franchise. Over the past 18 years we have made more than 60 changes to our competition lineups at X Games events to capture the evolution of the sport and these continue that growth."
ESPN promised to do a safety review after Moore's death in January, and obviously the network is indicating that the best-trick competitions were under review even before the Aspen games.
But what else is happening? Next Tuesday, HBO's Real Sports will broadcast a segment on extreme sports. From what we hear, the segment takes a close look at snowmobile tricks. Here's the description of the segment from the HBO website:
Millions tuned in to the snowmobile freestyle finals of the 2013 Winter X-Games and witnessed the accident that led to the tragic death of 25-year-old Caleb Moore. As the sport grows, so do the money and attention, along with the danger. In recent years, high-flying events such as snowboarding and skiing have resulted in brutal injury and even death. While the very premise of extreme sports is to test the limits, REAL SPORTS' investigative team explores how far is too far as correspondent Jon Frankel asks the question: Have extreme sports gotten too extreme?
G/O Media may get a commission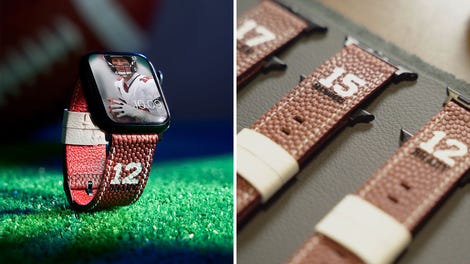 Official NFL PRODUCTS
Official NFL Apple Watch Bands
Frankel has done extreme sports reporting before, and the followup was no doubt prompted by Moore's death. We hear that ESPN found out about the segment in the last week or two. If ESPN was already reviewing these best-trick competitions, then scrapping the competitions is a reasonable way to get ahead of what will almost certainly be a tough story. But as Brent Rose explained in January, the Moore accident is just the beginning of what will surely become a massive headache for ESPN. The network has done its best to distance itself from the dangers of the games, but there's only so much it can do with a collection of fast-evolving sports whose dangers seem to multiply by the day. As Rose wrote for us:
This year everything was different. ESPN would replay the crash once or twice just after it had happened, and that was it. If you wanted to see it again (you sick bastard) you had to trawl the internet. Maybe that's the tasteful option—nobody needs to witness that kind of pain over and over again—but ESPN's shift seems more like self-preservation than sensitivity: keep the cameras away from all the twisted limbs so sponsors and advertisers don't see what the sport's become. As a result, a gap has opened up between how the X Games are broadcast and how they're talked about elsewhere in the media. Search Google News for "X Games" right now, and you'll have to scroll way, way down before you learn that Shaun White managed to win snowboard superpipe gold an incredible six times in a row. Before that the stories are all crashes, injuries, earnest chinstroking over whether or not the X Games have "gone too far."
ESPN acknowledged in its statement that "nobody can eliminate risk in its entirety," which is true enough, but there's not much the network can do about eliminating bad PR, either. When we find out more about Frankel's segment, we'll let you know.