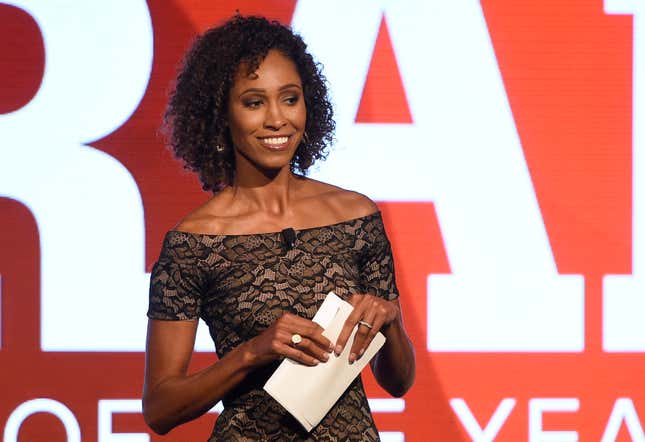 Despite how she may identify, Sage Steele is a Black woman. That needs to be addressed because, within the sports media landscape, you'd be hard-pressed to find many, or even a few, women — especially Black ones — and Black people who'll advocate for her. What also needs to be addressed is that Steele has a legit case in her free speech battle with ESPN. But having a worthy cause doesn't mean you're a worthy candidate.
Will Sage Steele benefit from leaving ESPN? | Agree to Disagree
Earlier this week, Variety reported on how the battle between Disney and the ESPN anchor — who begrudgingly got vaccinated and has a long history of being on the wrong side of history by siding with individuals who stand against progress — is "heating up." The report breaks down that the reason why Steele brought about her lawsuit against her employer over free speech was due to her feeling that she was "retaliated against for speaking about her personal beliefs outside of work despite being in compliance with ESPN's employee policies," according to NPR. Those beliefs included her being frustrated with the company's vaccination mandate and why she — a biracial woman — took angst with why Barack Obama only identified as Black, on Jay Cutler's podcast.

Steele has always been a shallow pond
But, despite the lengths at which Steele will go to make herself unlikable — like when she teamed up with Clay Travis on Twitter and did the whole "well, what about Chicago?" thing, implying that a majority Black city was more dangerous than COVID-19 — from a legal standpoint, she has a leg to stand on — especially as Disney is in the middle of a war with Ron DeSantis about free speech in Florida.

"The core of free speech is you don't just tolerate speech you like. You engage with speech that you may not like," said high-profile attorney Mark Geragos in the report.

"If you're an anchor for a network, you are the face of that network," added Devin McRae, a partner at Early Sullivan Wright Gizer & McRae, in the report. "And anytime somebody is the public face of the company, and they start talking about the company, they might be opening themselves up to some kind of discipline from the company, including termination. But Connecticut has this interesting law that protects Sage."
On paper, and from a legal point of view, it's easy to understand Steele's frustrations. But any goodwill she might have mustered usually goes away after she opens her mouth. "I wholeheartedly agree with Disney's position that in America, the government cannot punish you for speaking your mind," she wrote in a statement. "In my opinion, it begins and ends with diversity of thought. We must fight to preserve that fundamental constitutional right.

It's interesting that Steele mentioned a "diversity of thought," as diversity is defined as "the inclusion of people of different races, cultures, etc. in a group or organization." Steele made it known that she was against that very notion — again — recently.

Steele throws support behind Sam Ponder, who was dubbed a bigot
"Pathetic attack on a WOMAN who is simply fighting for other WOMEN in sports," Steele tweeted in support of her ESPN colleague Sam Ponder, who USA Today Sports columnist Nancy Armour referred to as a bigot in a recent piece about Ponder's views toward transgender girls and women in sports.

"(Nancy Armour) chooses to lead w her emotions vs facts. 'Follow the science', right?! When in doubt, just pull the bigot/race card! Comical. Stay strong (Sam Ponder) ..this is a lonely fight, but it's worth it!"

As I said, Steele loves to be on the wrong side of history when it comes to racial and social issues, as she often plays the victim when things don't go her way.

In 2020, Steele went to the Wall Street Journal and alleged that two of her fellow Black colleagues, Michael Eaves and Elle Duncan, tried to stop her from being a part of a special, called Time for Change: We Won't Be Defeated — that was a conversation that "explored Black athletes' experiences with injustice." Mind you, this is the same woman that "didn't look forward to discussing" Colin Kaepernick on TV and who publicly went after Black players for kneeling during the national anthem.

When a journalist goes to another publication with allegations about their coworkers, it's strictly to tarnish their reputation, damage their credibility, or get them fired. Funny enough, Steele wound up getting demoted to the noon SportsCenter while she was replaced by the person she tried to get fired — Duncan — on the 6:00 p.m. telecast.

"The disappointing part for me seeing a story like this, is that as far as I know, that whenever Sage has been caught up in various controversies I don't recall any of her Black colleagues going out of their way to amplify those controversies," Jemele Hill told Deadspin at the time.

"To pin it on Elle and Mike as if they made a decision like this in a vacuum, it just seems to be taking an unfair shot at your colleagues for no reason," said Hill.
Sage Steele has a lack of Black supporters
When I mentioned that it's hard to find Black supporters of Steele within the industry, it's evident in the fact that it was a Black employee that once called me from their car so infuriated by some of her accusations that they "almost got into an accident." A former senior producer in the ABC/ESPN family previously confirmed to Deadspin that they once had to "convince panelists to do a Black History Month speaker series that Steele was a part of."

And when Steele was unfortunately struck in the face by a ball at the PGA Championship last year, it was confirmed to Deadspin that ESPN still rolled out the red carpet for her — despite her legal action against them — by chartering a private flight for her after she sustained her injuries, as she didn't want to fly commercial after what took place.

The message will always be just as important as the messenger. And while ESPN has a history of picking and choosing who has to follow the rules, and who can say whatever they want, this isn't as simple as fair or unfair. It's about a problematic person who has a history of saying and doing problematic things, and if they have the right to continue to do and say those things while being employed by a company that mandates rules at will. It's a tough spot to be in. And as you've seen, it's even tougher when your name is Sage Steele. A woman that always seems to find a way to make things tougher on herself — which is her right, but also a choice.