Well, ESPN's Dave Telep had quite a scoop earlier today. A video by Telep was posted to ESPN about an hour ago that reported big time basketball recruit and point guard Demetrius Jackson was heading to Notre Dame. The video was titled "Telep: Jackson's Impact on Notre Dame." For folks following this story, this was big news! One of the top recruits in the country made his decision. It was also a little confusing why ESPN broke the news since they were going to broadcast his announcement—exclusively—at 5 p.m. on ESPNU.
Let's take a look at that scoop that ESPN poste—oh wait a minute. Whoops! ESPN pulled it down. It used to be here and now it's not.
So why'd ESPN pull it? It couldn't be because Jackson's staged ESPNU announcement was more important than the news story it had already posted? No, it couldn't be. Never.
G/O Media may get a commission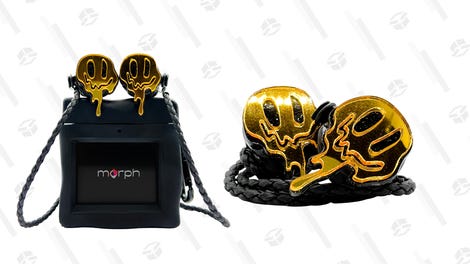 morph audio
Morph Earphones
Looks like ESPN had the Telep video in the can and someone let it go live a little early. Always a little tricky when ESPN places an embargo on its own newsroom. And so goes the tension between ESPN as a lucrative entertainment company and the ESPN as journalistic operation. Newsroom? Not going to win that fight.
UPDATE (5:55 p.m.): Well, Jackson has made his announcement, and Telep's video has magically reappeared. Apparently it was posted a few minutes before ESPNU went live at 5 p.m. In any event, what happened here? An ESPN spokesman said, "We posted the video this morning after Dave confirmed the news. It was mistakenly taken down for a short period of time and reposted before the ESPNU show began." That short period being nearly two hours, and then reposted a few minutes before the show began.
In any event, what about putting it up in the first place? Looks like that wasn't supposed to happen, either.