ESPN opened its annual upfront presentation to advertisers in New York earlier this week with a full brass band performing a New Orleans funeral march. It was tempting to read too much into it—ESPN poking fun with some gallows humor about its subscriber losses and recent layoffs of 100 employees—but it revealed itself as a bit about how bad ad metrics are these days, a theme returned to a number of times during the presentation. Riveting stuff.

Television upfronts are a strange ritual. Networks and cable channels develop 90-or-so minute presentations involving networks stars, executives, and celebrities, ostensibly previewing the upcoming television season. These presentations take place in lovely Manhattan theaters—ESPN's was at Broadway's Minskoff, which has been showing The Lion King since 2006—with hundreds or thousands of advertisers in the audience. The goal here is to wow advertisers into committing to spend their advertising dollars with your network.
Even if you already have a low opinion of advertisers, it's hard to imagine that Mike Greenberg asking Serena Williams penetrating questions like "What is the mountain Serena Williams wants to climb after tennis?" and "What makes the U.S. Open unique?" on stage convinced a sizable number of them to spend their money on ESPN.
SportsCenter anchor Kenny Mayne addressed this head on in a pretty funny comedic routine. "Does anybody even buy stuff based on advertising?" he asked. "We'll go along with that premise, if you'll go along with the idea that people are still watching television. We need each other!"
But that was all part of the Potemkin village aspect to it all. Mayne's routine was undoubtedly approved by lawyers and numerous suits, and every year he does something similar, profanely ripping into ESPN and the advertisers in the audience. All networks participate in this convention. At NBC's upfronts, Seth Meyers joked about former NBC personality Billy Bush; Fox's contained a number of jokes about the lawsuits facing the company. Networks pretending they have the humility to laugh at their own mistakes is an integral part of the upfront experience.
G/O Media may get a commission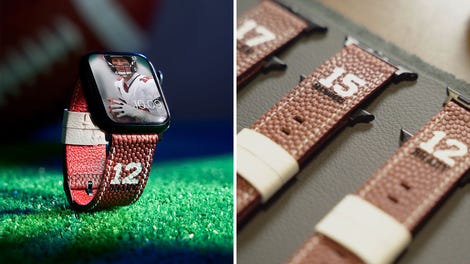 Official NFL PRODUCTS
Official NFL Apple Watch Bands
This is all a long way of explaining that these presentations are rituals, with all the attendant importance and baggage that word conveys. They show us how the companies putting them on would like to be seen, which employees and programs they value, and which topics they would rather avoid. They say things conventionally, but also through what is absent, or what is present but unremarked upon.
---
After the funeral march, ESPN president John Skipper spoke. He usually hams it up a bit at these things, joking and leaning into his Southern drawl. This year he seemed much more serious, addressing ESPN's challenges head on. Sort of. "The current environment forces us to be realists, as well as optimists," he said. "So let me be upfront, at this upfront. ESPN is responding to change, and we are making changes from the most dramatic position of strength."
This was as close as anybody got to directly talking about ESPN's layoffs, or persistent investor concerns dragging down the stock price of its parent company, Disney. At a presentation designed to project strength to advertisers—increasingly important to ESPN as they lose millions of subscribers, and the monthly fee those subscribers pay—of course they were only going to address the layoffs obliquely.
Which is different than saying the presentation didn't address the layoffs, other challenges facing the company, or the disingenuous concern trolling by competitors. In fact, the entire presentation was designed to address various issues that might make an advertiser wary of the network, specifically the ideas that ESPN has lost too much talent, that its journalism is diminishing, that the network has veered left politically.
"We Have So Much Talent It Can Barely All Fit On The Stage!"
ESPN laid off 100 high-profile employees last month, compounding the perception of the last two years that there was a talent exodus (Skip Bayless, Colin Cowherd, Mike Tirico, Bill Simmons, Jason Whitlock, Robert Flores) at the network. Whether or not that perception was accurate, now it is: Practically every department at ESPN is weaker because of the layoffs.
But ESPN wants you to know that there are still hundreds of familiar faces around the joint, many of them well-known and talented. On Monday ESPN announced a bushel of SportsCenter anchor re-signings and assignments, including Sage Steele on the 7 a.m. SportsCenter, and Kenny Mayne moving back to Bristol to host the 11 p.m. edition. They announced a new show for rising stars Bomani Jones and Pablo Torre. And at the upfront they had Mike Greenberg interviewing Serena on stage for five milquetoast minutes to celebrate his new morning show.
Our roster of talent is unparalleled and you won't even miss everyone we fired! was what these announcements screamed, but even that wasn't heavy-handed enough. A mock living room set was stuffed with 11 of ESPN's NFL and college football announcers, hosts, and analysts—We dominate the biggest sport!—for an interminably long discussion about football. And after two sales execs talked about why ESPN was a better place to spend advertising dollars than the online competition, the curtains went up and dozens of ESPN personalities streamed onto the stage. They included Rece Davis, Suzy Kolber, Matthew Berry, Jon Gruden, Sean McDonough, Randy Moss, Lisa Salters, Charles Woodson, Rex Ryan, Chris Fowler, Kirk Herbstreit, Stephania Bell, Jay Bilas, Will Cain, Cari Champion, Harry Enten, Neil Everett, Kate Fagan, Paul Finebaum, LZ Granderson, Israel Gutierrez, Matt Hasselbeck, Bomani Jones, Max Kellerman, Bob Ley, Patrick McEnroe, Jessica Mendoza, Beth Mowins, Wendi Nix, Bernardo Osuna, Molly Qerim, Jeremy Schaap, Adam Schefter, Danyel Smith, Ryan Smith, Stephen A. Smith, Sarah Spain, Sage Steele, Hannah Storm, Mark Teixeira, Pablo Torre, Stan Verrett, Mike Wilbon, Marcellus Wiley, Scott Van Pelt, Wright Thompson, Jay Williams, Kenny Mayne, Michael Smith, Jemele Hill, Marly Rivera, Jorge Sedano, and Mike Greenberg.
Seriously, just look at the shot at the top of this post again.
"Our Journalism Is Strong As Hell!"
Even to those cynical about the quality and motivation of ESPN's journalism, the breadth and magnitude of ESPN's layoffs were shocking. ESPN laid off a number of longtime and beloved reporters (including reporters covering important playoff teams), gutted a department to satisfy the whims of a future employee, and weakened their reporting on pretty much every subject. It is fair to wonder how much reporting is valued by ESPN.
Skipper exalted the company's "unmatched commitment to journalism" in his opening, but the heavy lifting on this front was left to ESPN's premier longform writer.

Wearing a fedora and a blazer over a Guns N' Roses t-shirt and seated at a faux bar drinking a faux(?) "Mississippi breakfast," Wright Thompson said he represented ESPN's "award-winning writers, journalists, and filmmakers." Strangely, he came out with the Oscar won by Ezra Edelman and co. for the 30 for 30 about O.J. Simpson—and talked up two of his own (very good!) ESPN: The Magazine stories—before moving on to E:60 and Outside The Lines. He raised his glass to the one-year anniversary of The Undefeated, the launch of the Béisbol Experience, and the continued prominence of 30 for 30, which he called "[ESPN] at our finest."
This is all true, more or less. But it was telling that ESPN felt the need to recite its journalism résumé, and that the recitation was shoehorned into a four-minute segment—about as much time devoted to Scott Van Pelt interviewing Paul Pierce—with no new initiatives announced.
"Actually, We Aren't An SJW Liberal Network!"
At last year's upfront, ESPN tripped over itself to emphasize "diversity," "cultural change," and appealing to "all" fans. It even scored two of the stars of the mega hit Broadway musical Hamilton to open to the show. This year, diversity-related buzzwords were few and far between. Maybe ESPN felt their commitment to reaching a non-white audience was sufficiently reflected in its programming choices—Michael Smith and Jemele Hill are SportsCenter hosts, Bomani Jones and Pablo Torre are getting their own show, the bilingual sports news show Nación is growing—but it certainly chose not to tout what those changes could mean. In the wake of bad-faith messaging about how ESPN's supposed left-wing bias led to its financial slump, network executives certainly seem to be warily steering clear of anything that might be perceived as "liberal."
The presentation edged close to addressing the network's appeal to "diverse" audiences—and therefore the largest possible consumer pool—only twice, both near the end. One came when Marly Rivera and Jorge Sedano of Nación chatted amiably in English and Spanish about talking to viewers like they talk to their own families, switching seamlessly between the two languages. The other was when Smith and Hill tepidly joked, to a theater packed with mostly white advertisers, that the bantering duo could become "the black friends y'all never had."
Notable, too, was the presentation's complete avoidance of major sports stories from the past year that touched upon social issues—Colin Kaepernick kneeling during the national anthem, sporting events being pulled from North Carolina because of the state's discriminatory bathroom bill, players and coaches increasingly speaking out on politics—all of which ESPN covered on multiple fronts and drew huge attention. The athletes interviewed onstage were asked sports questions, or about their personal life; nothing too thorny.
Instead (and understandably, given what a ridiculous sports year it was), the presentation lingered on the Patriots' Super Bowl comeback, Lebron James's raw victory speech after the NBA Finals, and Morgan William nailing the jumper to down UConn in the NCAA tournament. Maybe this was just another way for ESPN to reiterate the lure of "live," a word peppered throughout the presentation, but set against the rest of meticulously orchestrated and decidedly non-controversial upfront, it also came off in part as a way of assuring all that the Worldwide Leader is sticking to sports.

---
The final part of the upfront ritual, for reporters at least, is the John Skipper scrum. After the presentation, Skipper posts up in a small nook, surrounded by reporters who bombard him with questions for 15 or 20 minutes. It is the only time each year that most reporters have an opportunity to ask questions to which he has to respond extemporaneously.
During this scrum the past two years, Skipper has had to address messy firings he probably would've preferred to avoid. Two years ago Skipper fired Bill Simmons a week before the upfront, and last year he fired Curt Schilling a couple of weeks beforehand. Both times he spoke to reporters, and was repeatedly asked questions about the two.
But Skipper didn't take any questions from reporters this year. The official ESPN line is that he had to attend a board meeting for BAM Tech, the MLB Advanced Media spinoff in which Disney bought a 33 percent stake. This may be true, but it's plainly disingenuous. John Skipper can attend, miss, or move around any board meeting he wants, or offer reporters an alternate time to speak to him. Instead he ducked what was sure to be a volley of questions about layoffs, whether ESPN is a liberal network, whether he overpaid for live rights, and so on.
Perhaps Skipper knew what is probably the truth: Unlike with the Simmons and Schilling firings, questions about ESPN's layoffs, and therefore its future, will never end. With few exceptions, ESPN's entire upfront presentation was defensive. SportsCenter ratings are down, so they shook up SportsCenter. ESPN's ratings are down, so they announced a finalized programming schedule that cannibalized ESPN2 to prop it up. FS1's mouth breathers call ESPN liberal, so they'll avoid using the word "diversity." One hundred employees were laid off, so they'll present 100 of the most high-profile ones left.

ESPN is now a company left protecting what it already won and what is already seeping away, not a company growing and building into the future. As Skipper proclaimed, ESPN is indeed making these changes from a position of strength; it's just impossible to imagine that the best case scenario is anything other than a managed decline. ESPN was on the defensive, and they are going to be on the defensive now for a very long time.