The Golden State Warriors just spent the first two games of the NBA Finals dominating the Cleveland Cavaliers in humiliating fashion. After sweeping through the preliminary rounds of the playoffs, and with a Finals sweep very much on the table, the Warriors have a real chance to go 4-4-4-4.

This is all good news for the Warriors, but ESPN's Darren Rovell would like to remind you that a sweep would come with a hidden cost to Golden State. If the Warriors win in four games, they will miss out on hosting a Game 5 and maybe a Game 7 in Oakland. Rovell claims to have crunched the numbers and determined how much money this would cost Warriors ownership.
The figure he arrives at is $22 million, which takes into account gate receipts, merchandise, food sales, and the Warriors' cut of ticket resale fees. He fails to get specific about what sorts of operating costs would eat into that $22 million—the only costs he makes note of are the fees the team would have to pay to food vendors—but he's correct in noting that the NBA only taking 25 percent of ticket sales, instead of 45 percent they used to take, would be a boon.
But even if the $22 million figure is on the high side, it doesn't matter. The entire premise of the piece is wrong. Whatever the Warriors would gain from one or two nights of basketball pales in comparison to the long term benefits of sweeping the Finals and submitting a claim to the title of greatest team of all time. The Warriors are already valued at $2.6 billion, and winning a title over the Cavs in dominant fashion will only boost that number. Don't just take it from me. Take it from Rovell, who acknowledges the futility of his own argument at the end of the piece:
In the long run, $22 million will be forgotten about, as another title surely will boost the value of the Warriors by at least that much. But that doesn't mean Warriors owners Joe Lacob and Peter Guber won't spend any time thinking about the short-term cash they could have made if their team weren't so much better.
G/O Media may get a commission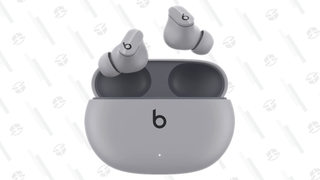 Rovell begins this column by claiming that a sweep "could prove costly," and then ends by admitting that, actually, it won't be costly at all. Thank you for taking us on this journey, Darren.
[ESPN]