Once upon a time, ESPN2—then edgily dubbed "the Deuce"—launched with Keith Olbermann and Suzy Kolber as the anchors of SportsNight, its flagship program for young folk. (If the names Keith Olbermann and Suzy Kolber sound too old and safe for you, reader, think of them as 1993's analogues to today's Skrillex and Chelsea Handler. If you were too old to be in Keith and Suzy's target demo in 1993, imagine a cable network launched with Don Imus and Cybill Shepherd as its stars. Read more about SportsNight here.) The whole network was gonna serve young folk, those who found SportsCenter's straightforwardness a totally unpleasant way to experience sports. But then ESPN realized the whole thing was a hilarious early-90s mess, like Reality Bites, and the station soon evolved into a hub for college football overflow and bass fishing.
I bring up this story of long-ago failure because ESPN is back at the wooing young people on a sub-channel thing again:
ESPN will officially make its foray into the late-night television circuit on August 27. The network's first late-night entertainment show, UNITE, will air daily on ESPNU at midnight ET providing a live late-night snack of sports, humor and social buzz Monday through Friday.
[...]
"The way people consume entertainment has shifted dramatically, and continues to evolve by the day. There is a unique opportunity to provide sports news and humor through new avenues," said Deskalo. "Some things on UNITE you will recognize as late-night entertainment staples – a couch, guests and, of course, an in-studio musical act – will all be part of the show, but not necessarily in the way you've seen it done before."
Live from the ESPN studios in Bristol, Conn., the show's three hosts will push the envelope Monday – Friday with an often irreverent look at social media and video-driven sports of the day. Expect nightly guests, but not always on the couch. The show will use the latest technologies to connect with the world outside the studio walls, incorporating many guests and sports fans via Skype with a 103" monitor as a set centerpiece.
An often irreverent look at social media? The guests aren't always gonna be on the couch? Envelope, pushed.
We're a little surprised that ESPN hasn't announced the stars of the program yet—late-night shows tend to thrive based on the hosts' charm and sensibility, rather than the program's format and Skype capabilities—but that's probably because they're awful, like this show almost certainly will be. For what it's worth, all the mentions of "social media" make us think ESPN could go with a hip cat who just came aboard.
G/O Media may get a commission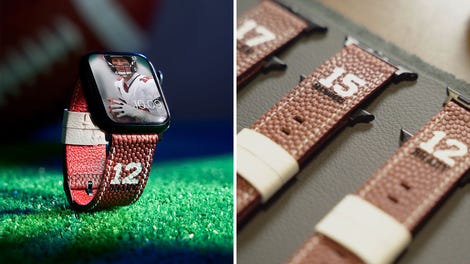 Official NFL PRODUCTS
Official NFL Apple Watch Bands