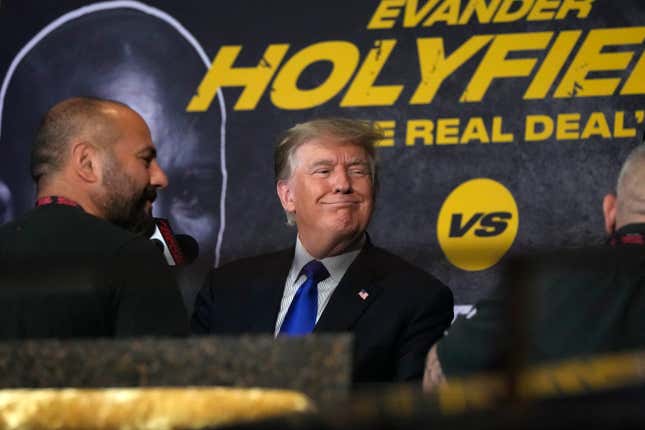 God looks out for fools and babies. But, does that grace get extended to 58-year-old men? Or can we just admit that Evander Holyfield played himself?
An American Pastime: Booing politicians at sporting events
Back in 2021, the boxer that is infamously known as the guy who got his ear bit off by Mike Tyson was two years away from 60, and was still fighting for some reason. One of the greatest to ever put on a pair of trunks and gloves was making a fool of himself, and it culminated with a first-round TKO loss to Vitor Belfort and a $2.5 million payday for Donald Trump.

According to a recent report from USA Today Sports, the 2021 fight between Holyfield and the former UFC champion led to Trump's most lucrative speaking engagement after leaving the Oval Office, as he did color commentary during the four-fight main card on Sept. 11, 2021, at the Seminole Hard Rock in Hollywood, Florida.
The man that built a 109-room mansion in Georgia — that rapper Rick Ross now owns — helped Trump make millions on the same night he willingly embarrassed himself.
The information about the deal between Triller Fight Club and Trump was from a recent revised personal financial disclosure filing that showed that most of the money he's made since leaving the White House has come from speaking engagements, appearances, and "foreign business dealings." Like Colin Kaepernick before him and Herschel Walker after him, Holyfield wound up becoming yet another Black athlete Trump would try to use in some weird way to keep himself relevant, desperately grasping for headlines, and popularity.
"He's a great guy, he's a patriot and he's a very loyal person, he's a very strong person. They love him in Georgia, I tell you," Trump said of Walker back in 2021, as he was hoping his support for his old USFL buddy would help him win the race for the U.S. Senate in Georgia as Republicans desperately wanted to defeat Democratic Sen. Raphael Warnock — whose election in 2020 helped turn Georgia blue, leading to the Democratic Party taking control of the Senate. It didn't work — Walker lost.
Coincidentally enough, just like with Trump, the grift worked out for Walker, too. By April of this year, Walker's campaign had already spent over $1 million after losing the election, according to the Atlanta Journal-Constitution, on what feels like kickbacks and old favors. Walker had more than $4.3 million in cash after losing in last December's runoff with Warnock.
There's a lesson to be learned here. Stop giving/spending money on "politicians" who don't have your best interests in mind, and are just using you for a quick payday.