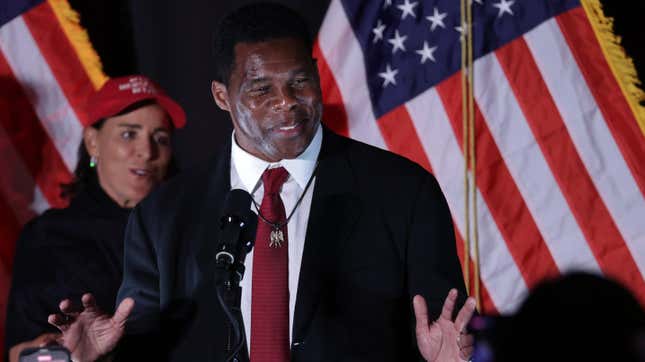 In politics, candidates win and lose elections all the time. And despite the outcome, a lot of the money is left over from what was raised during the campaign. But, Herschel Walker was never like any other political candidate. He was just a "country boy" who wasn't "that smart," remember? Well, he's still proving just how "unsmart" he is by the way his campaign has been spending this year — over $1 million in just a few months.
Black Quarterbacks = Big NFL Ratings | The SEO Show
The idea of Walker as a politician was always a joke. What's happened in defeat is the punchline.

According to the Atlanta Journal-Constitution, Walker's campaign spent more than a million dollars in January, February, and March on what feels like kickbacks and old favors.

Here's a breakdown of the money:
• Horatio Alger Association — $250,000. Walker received an award from them in 2022 and is now listed as an "Eagle Flight" donor that's given at least $250,000.
• National Republican Senatorial Committee — $100,000.
• Victory Junction children's camp — $75,000.
• Herschel 34 and the Johnson County Class of 1980 — $50,000.
• Boys & Girls clubs (multiple locations) — $40,000.
• Cason Theological Institute — $15,000.
• Riley Gaines Barker (media consulting and production) — $1,500.
Money to blow — even in defeat
According to the report, Walker had more than $4.3 million in cash after losing in December's runoff with Democratic U.S. Sen. Raphael Warnock. This site took part in chronicling Walker's "dabble" into politics from Day One, as he was deemed Deadspin's Idiot of the Year on top of the countless wild and inflammatory public statements he kept making.
"So what we do is we're going to put, from the 'Green New Deal,' millions or billions of dollars cleaning our good air up. So all of a sudden China and India ain't putting nothing in there – cleaning that situation up. So all with that bad air, it's still there. But since we don't control the air, our good air decide to float over to China, bad air. So when China gets our good air, their bad air got to move. So it moves over to our good air space. And now we've got to clean that back up," he once said.
Between the gaffes he continually made while running for office and the money that we know he raised — and still has left over — it's easy to see just how dangerous Walker was as a candidate, as he was a threat to society. Walker was a representative of how dirty the Republican Party will play — there's no basement with them. His lack of civil awareness, let alone a political background, pointed to how the GOP would do anything to gain power and maintain privilege.

"I think a lot of Republicans are hoping we'll be pleasantly surprised, but there aren't a lot of indications out there to base that on," Jason Shepherd, former chair of the Cobb County GOP, told Politico last year about Walker's chances before Election Day. "Just a lot of hope and faith in things unseen. It's the Christmas season, after all."
Walker's absence from the public eye correlates with his non-existence from the spotlight before he was chosen as the GOP's Black puppet in an important race in which his opponent was a distinguished and polished incumbent who was the first Black Senator in Georgia's history. The fact that a runoff election was needed to end Walker's political career was shocking, to some. But the realization that he has all this money left over from his campaign is what's scary. If people are willing to give millions to fund someone like Herschel Walker, then the next former athlete Republicans think can win an election/popularity contest will get even more.