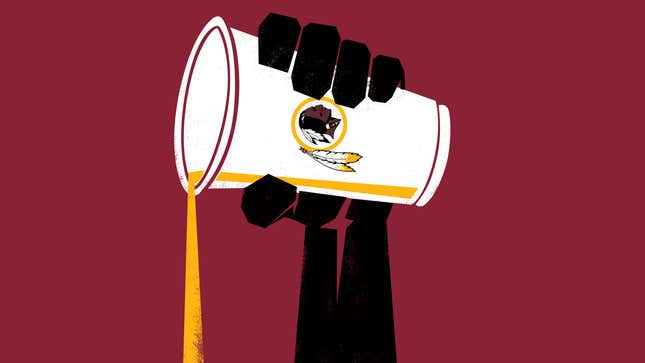 Fans aren't alone: Even beer vendors hate being inside Jack Kent Cooke's Folly.
The talk of the town after Washington's no-silver-lining loss to Indianapolis on Sunday was how D.C.'s romance with the football team is in tatters. Bitterness began replacing bliss as the dominant emotion at some point early in the Dan Snyder era, but now apathy reigns supreme. Despite a sad and misleading PR blitz from the team and local media full of the same ol' crap about a new fan-friendly attitude from management and bells and whistles for game goers, the home stadium had more empty seats than any opening day in franchise history.
Is Texas or Florida State a bigger national title contender? | Agree to Disagree
There's still some bitterness, mind you. A group of beer vendors showed up at the stadium on Sunday, not to sell but to protest. They're peeved that the rate they get for working at Snyder's stadium has been cut drastically and now falls far below what sellers make at other NFL venues.
Beer vendors in Landover work strictly on commission and tips, with a sliding scale. The commission is based on net sales (after sales tax is taken out, and with tips not included) with vendors getting 8 percent on their first $600 worth of sales for any one game, 10 percent on sales up to $2,000, and 12 percent on anything over $2,000. According to Perry Hahn, a career suds slinger who was among the protesting vendors, to reach the max level a vendor needs to sell a "little over 200 beers," which typically go for $9.50 per 16 oz. can.
FedExField vendors used to be paid from 12 to 14 percent, say the vendors. Last year, Snyder brought in a new concessionaire: Chicago-based industry giant Levy Restaurants. Levy then subcontracted the beer vending to Event Management Solutions. Hahn and other vendors say EMS immediately slashed the employees' pay rate to the current 8–12 scale.

Vendors say FedExField was already paying the worst commission of any football venue in the Mid-Atlantic region even before the recent wage cut. Sellers working just up I-95 at M&T Bank Stadium for Baltimore Ravens games, for example, get a commission of 13 percent to 20 percent, and reach the 20 percent bonus level after selling $1,500 worth of beer. Baltimore just cut the price of a beer to $7.50, which Hahn says is among the reasons Ravens fans drink more in-house than Skins fans.
I asked Hahn why there's such a discrepancy in stadiums just 32 miles apart.
"It's the difference," Hahn told me, "between Steve Bisciotti and Dan Snyder."
Baltimore isn't the only place that beats the crap outta Landover for pay rate. Vendors say they make a flat 15 percent commission selling at Philadelphia Eagles games, and also get 15 percent at football games at the University of Maryland and University of Virginia.
"D.C. is the worst, what's going on is the worst," says Neal Harol, who's been a stadium vendor since 1971, the last 30 years in the Washington market.
Harol, 64 years old this week, says he still works 300 events annually across the U.S., and that the peak of his career came with a spate of $100,000 years during the Philadelphia Phillies' run about a decade ago. He says current trends in the industry mean he'll never make that kind of money from beer again.
"It's not the easiest scale to understand if you don't do this, but [commission cuts in D.C.] is a big deal," Harol said. "Losing one point doesn't sound like a lot, but one point can mean about $80 a shift."
Hahn has seen his share of shifts, too, and his most glorious days hawking booze might also be in the rearview mirror. But what a run he's had! Hahn is maybe the most famous beer man in sports history. To fans of the Baltimore Orioles, he's RoboVendor. In the 1980s, vendors in the stands weren't allowed to give fans the can; sellers had to open and pour the beers into cups. Hahn thought that transfer method was too slow, so he put his mechanical engineering degree from the University of Maryland to work and ended up with a U.S. Patent 5, 228, 203, the "Tandem High-Speed Can Opener," a battery-powered gadget he attached to his wrist that rips the tops off two beer cans at a time almost instantly. He debuted the device during the O's' last game at Memorial Stadium in 1991, and became a star at Camden Yards. "I can now open and pour a case of beer in 60 seconds if I have to," Hahn told me in 1996.
Almost all stadiums let the fans keep the can or bottle nowadays, so Hahn's whirring gizmo has become obsolete. Cooperstown should find a place for it.
Hahn and Harol say things are so bad for vendors in D.C. these days that they'll travel even farther than Baltimore to get a fairer wage. Whenever the Ravens are on the road and Skins and Eagles are both playing home games, they and lots of their beer selling peers commute to Philadelphia.
Nothing will change for the better in their home market, they and other D.C. vendors say, until the sellers form a union to take on Levy, EMS, and Skins management. A group of peeved vendors showed up at FedExField on Sunday to hand out union cards and information sheets about the pay discrepancies between their hometown and others.

There was also a movement to get vendors to boycott FedExField this coming Sunday, when the Skins will play the Packers. The Eagles and Ravens will also have home games, and vendor organizers advised those that weren't already planning on staying away from FedExField to do so.
"I will not work there," Harol said. "I will not contribute to what they're doing."
Skins spokesman Tony Wyllie told Deadspin that while the team is responsible for bringing the new concessionaire, Levy, into the stadium, vendor issues are not the team's problem. "Our deal is with Levy," Wyllie said. "[Beer sellers] are not Redskins employees. We have no insight on what they pay. We don't make the deals."
Harol points out, however, that the team got in bed with the concessionaire, and therefore sanctions Levy's and EMS's wage-cutting ways. Harol says he came away from FedExField last weekend hopeful that enough other sellers will join him in boycotting that stadium in favor of Ravens and Eagles games to get Skins management to notice. He said the Skins games typically used to draw "about 100" vendors, but that only "about 70" showed up for the Colts game. Hahn said he's heard that the concessionaire intends to import beer men to D.C. from Atlanta to mitigate any shortage of local sellers.
Harol said the awful treatment of beer men at Snyder's venue isn't the only reason veterans of the industry will know to stay away. "The biggest rule in this business is: You gotta go where the crowds are."
That's surely not a Skins game.