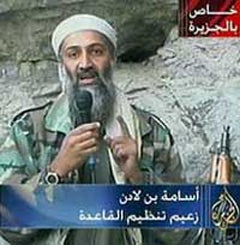 "Bin Laden here. Just a note to my homies on the Iraqi soccer team: Nice job winning the Asian Cup. We were all rooting for you here in the cave. Strength be to Allah. Oh ... and also congratulations to Barry Bonds on No. 755."
An insurgent group congratulated Iraq's Asian Cup-winning football team on Monday — breaking ranks with other militant groups which have kidnapped sports stars and attacked celebrating football fans with suicide car bombs.

"Hamas al-Iraq congratulates the Iraqi people on the occasion of our national team's winning the Asian Cup for 2007," the Sunni Muslim militant group said in a statement posted on a Web site used by al Qaeda and other insurgents.
It was nice for Hamas to take time out from their murderous mayhem to give the team some well-deserved props. All too often with these groups it's all about me, me, me.
Now don't expect to hear from them again until the Tony Award nominees are announced.
Iraqi Insurgents Praise Football Win [Yahoo News]