With 48 laps left in the "Super Bowl of NASCAR," mighty Rangi, Sky Father who gives breath to the World, had seen enough. He brought down the thunder and put a stop to the Daytona 500.
Matt Kenseth—who started dead last in his back up car—was the driver in the lead when the race was red flagged on lap 152, so he gets his first victory in over a year. It's not Matt's fault that it was dark, wet, and everyone involved was just about fed up. Maybe if they hadn't started the festivities at 3:30 p.m. they could have stuck it out a little longer; and maybe if the best car in the race didn't get carried out on a stretcher fans and drivers wouldn't be quite so grumpy today.
Most of the anger is in response to the wreck on Lap 124 that took out eight cars including Kyle Busch, who had already led 88 laps and who everyone agreed was having the best run of the day. Dale Earnhardt Jr. was already a lap down when he clipped Brian Vickers on an aborted pass attempt and sent Vickers flying into Busch. This was after Earnhardt missed his pit box—twice—so it's safe to say that he was having a bad day. Of course, he doesn't think any of that was his fault, even though no one else seems to agree:
"I guess they're not going to penalize (Earnhardt) for it," Vickers said. "It's kind of sad. To wreck somebody intentionally like that in front of the entire field is really kind of dangerous..."

Earnhardt was livid when told that Vickers thought he did something wrong or intentional.

"Penalize me? For what?" Earnhardt asked. "I got ran in to and sent below the line. What the hell? I don't want to go down there, I got sent down there. What the hell am I supposed to do? Stay down there? No. I got to get back on the race track. If he wasn't so damn reckless, we would have never had that problem."
Busch was also unimpressed.
It's unfortunate that a guy that's messed up his whole day on pit road and screwed up, that he has to make our day worse," Busch said. "It wasn't our problem that he was a lap down and fighting with another lapped car. I was frustrated going into this race (after finishing second in both the truck series and Nationwide race). This is about a 15 on a scale of 10."
G/O Media may get a commission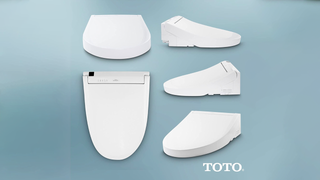 44% off
Toto Washlet Electronic Bidet Toilet Seat
So I guess Dale is not invited to the picnic next weekend?
Kenseth wins rain-shortened Daytona 500 [Sporting News]
Daytona 500 a debacle after golden boy's bratty move [Chicago Tribune]
Fans, viewers cheated as rain ruins Daytona 500 [Jackson Citizen Patriot]
Earnhardt's wild day leads to multi-car melee [Daily Sun]
Logano, 18, greeted by Cup's harsh reality [USA Today]