Welcome to the Deadspin 25, a college football poll that strives to be more democratic and less useless than every other preseason poll. Leading up to the college football season kickoff, we will give you previews of the 25 teams that you, the readers, voted to be most worthy of writing about. Now, No. 8 Georgia.

Two years in and Kirby Smart is looking like a very smart man.
The former Alabama defensive coordinator went into Athens with the task of somehow following up Mark Richt's incredible 15-year run. At the time of Richt's firing, the rest of college football was a bit perplexed—no, Georgia wasn't winning any national titles, but Richt had long been a prime example of what sustained success looked like at a college program. Under his watch, Georgia netted at least 10 wins in 10 out of 15 seasons and won eight bowl games, including a pair of Sugar Bowls. Most programs would kill for that kind of success. But this is the SEC, where the only thing more outrageous than the bloated hype is fan expectations.
Expecting Smart to come in and instantaneously turn the program into one that could regularly challenge his former competitor and the nation's best six or so teams was a tall order. And in his second year, he delivered.

Under Smart (and with Richt's recruits, namely the stable of running backs) the Bulldogs went 13-1 in his second season, going all the way to the national title game, where those damn Crimson Tide fellas ended up besting them with a thrilling overtime finish. It was a tough pill to swallow, but the larger message was clear: The top of the mountain is where Georgia (aka its boosters) expect the Bulldogs to live. If Smart slips, he knows exactly what will happen, because that's how he got the job in the first place. But with an offense boasting youth and ridiculous talent in all the right places, and a defense crafted by the man that did it for Nick Saban, that slip doesn't appear to be coming in 2018. Instead, Georgia will likely be a very good, possibly great, squad, and that starts with the bunch they have in the backfield. (A reminder that Smart is still a total dweeb about letting reporters do their damn job and has actively lobbied the Georgia state legislature to pass laws further shading the transparency college athletics desperately needs.)
G/O Media may get a commission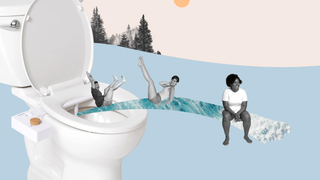 17% off
Tushy 3.0 Warm Water Spa Bidet Attachment
The running back situation, as always, will be fantastic for Georgia fans, but let's not forget what the Bulldogs lost—in Sony Michel and Nick Chubb, they had the most productive rushing duo in NCAA history, passing SMU's Eric Dickerson and Craig James in their Rose Bowl win over Oklahoma.
Michel was great and will be great in the pros, but for three years, Chubb was far-and-away my favorite college football player. There were lots of reasons why, but mostly it was the way he just bullied his way through any defense he came across and then, somehow, speed away from the secondary. It was truly a thing of beauty. Of the 91 and counting "Guy To Know" sections that I've written since starting this whole thing up, his freshman highlight reel still stands above the rest in sheer badassery.
Let's run that back one more time, shall we?
The most frustrating moment when researching Georgia, or any other team in this year's Deadspin 25, came when I when I went to look up where Nick Chubb landed in April and oh my God, he's with the Browns. What the FUCK, football gods?! Now, he's doomed to at least one season of this. Eleven yards on 15 carries! For Nick Chubb! Good God, just bring in Georgia's offensive line at this point. It's total bullshit, and I don't even like the Bulldogs!
Anyway, Georgia's running back stable will yet again be one of the most impressive in the nation. This is thanks in large part to the return of D'Andre Swift. The sophomore is back after a year of tutelage under Chubb and Sony Michel. In limited action in 2017, Swift was good for 7.6 yards per touch, racking up 618 yards on the year to go along with three scores. It was a low-pressure rookie year for Swift, which is great because he will expected to serve as the new foundation in Georgia's backfield. Swift will lead the pack, while being backed up by juniors Elijah Holyfield and Brian Herrien, one of whom will almost certainly have break out season.
Under center, the quarterback spot seems all but locked up. Last year, Jake Fromm and Jacob Eason competed for the starting gig in the preseason, and Fromm won. Eason, who looked great in 2016, opted to transfer and will now presumably start for Washington next year.
During his first year in college football, Fromm was nothing short of spectacular. He tossed 24 scores to seven picks and completed 62.2 percent of his passes. Thanks to the strength of the running game, the Bulldogs didn't need Fromm to save them or carry the team; his purpose was to deliver the ball to his receivers well enough to make the passing game juuuust dangerous enough to open up the box for whichever NFL-ready running back lined up behind him.
With Michel and Chubb gone, Fromm will be expected to take a step forward and use his arm to provide a constant downfield threat for the Bulldogs—last year, he was asked to throw the ball fewer than 20 times in eight of his 15 games. Don't expect that stat to stick this year. And if he does slip in any way, he's well aware that five-star recruit Justin Fields is waiting in the wings to to do exactly what Fromm did to Eason a year ago.
Out wide, Fromm loses 2017 leading receiver Javon Wims but returns Terry Godwin and Mecole Hardman as his top targets. The pair combined to top 1,000 yards last year and were good for 10 total scores. Hardman is the established slot receiver while Godwin handles wideout duties. Riley Ridley will also be in the mix, as he's taking Wims's spot. Ridley had a poor 2017 before a six-catch outburst in the title game, but if he wants to stay on the field, he'll need to spread that production to the regular season. Look for Georgia to mix JuCo transfer Ahkil Crumpton and Tyler Simmons into the rotation if that doesn't happen. Both are great athletes that seem ready to be released on SEC defenses.
Speaking of which, the Georgia defense has nothing but more frustratingly great players and depth, this even despite the fact the Bulldogs also lost a generational talent on that side of the ball.
The linebackers corps took the hardest hit during the offseason. The veteran trio from 2017—Roquan Smith, Lorenzo Carter, and Davin Bellamy—is out, all either graduated or in the NFL. Anyone who thinks Georgia is going to replace Smith, the Butkus Award winner and No. 8 overall pick in the draft, in the next 10 years, let alone 2018, is delusional. But that's not to say the upcoming Bulldogs linebackers won't be great enough to push the defense to another playoff appearance.
Walter Grant, Natrex Patrick, D'Andre Walker, and Monty Rice appear to be this year's starters, and all are talented and experienced within the Georgia system. Patrick was benched the final two games of last season when he got popped with weed, but as long as he stays away from cops, he'll be good to go this year. Walker didn't start last year but finished second on the team with 5.5 sacks.
Dominick Sanders is gone at safety, off to play with the Dallas Cowboys, and replacement Tyrique McGhee is currently out with a "small fracture" in his foot. The junior's injury will thrust rookie Christopher Smith into the rotation. J.R. Reed has stood out during camp, though look for Richard LeCounte and Jarvis Wilson to duke it out in the remaining week of training camp to see the field.
A Guy To Know
Again, there's no replacing Michel or Chubb, but if you have to do it, D'Andre Swift is the exact guy you want given the task. As a freshman, Swift jetted, stiff-armed, and hurdled his way to 618 yards on just 81 carries. He found the end zone three times while performing relief duty for the Georgia stars; this year, he'll step into the spotlight.
Swift has all the physical tools to add another 1,500-yard season to the Georgia books; as long as the offensive line stays health, expect Swift to push toward that goal. Whether he and Holyfield can create a duo half as lethal as the one that preceded them is yet to be seen, but I can't wait to watch and find out.
Can They Make The Playoff?
Absolutely. Georgia enters the season rocking stars at quarterback and running back, and the defense, though facing some turnover pains, will be efficient, as any Kirby Smart defense is. The hardest game of the year comes in October, when the Bulldogs have to go to Baton Rouge to take on LSU. Outside of that, Georgia should find the path to the SEC title game pretty easy this year.
The Assistant Coach Tweet Of The Day
Reader's choice today, take your pick!
Schedule
Sept. 1: Austin Peay
Sept. 8: @ South Carolina
Sept. 15: Middle Tennessee State
Sept. 22: @ Missouri
Sept. 29: Tennessee
Oct. 6: Vanderbilt
Oct. 13: @ LSU
Oct. 27: Florida
Nov. 3: @ Kentucky
Nov. 10: Auburn
Nov. 17: UMass
Nov. 24: Georgia Tech