With last night's 1-0 victory over the Texas Rangers, the losingest losers are losers no more.
For the first time since the Daddy Bush administration, the Pittsburgh Pirates are assured of a winning season. Let's celebrate by looking back at all the crap the Buccos put their fans through during their 20-year streak of consecutive losing seasons, the longest in the history of North American professional sports.
With so much to sift through, I'm sure I missed something. If you see anything I left out, please drop it in the discussion below. Ahoy:
Doug Drabek signs four-year deal with the Houston Astros (1992)
Barry Bonds signs six-year deal with the San Francisco Giants (1992)
Cam Bonifay hired as GM (1993)
Tim Wakefield's sad, sudden decline (1993)
All-star game at Three Rivers Stadium. The Bucs' lone all-star? Carlos Garcia (1994)
Fans shower field with plastic bats during post-strike home opener (1995)
Same home opener: The Expos score three runs on a bunt (1995)
Chad Hermansen projected to "walk on water." Chad Hermansen's career: .195/.255/.329 (1995)
G/O Media may get a commission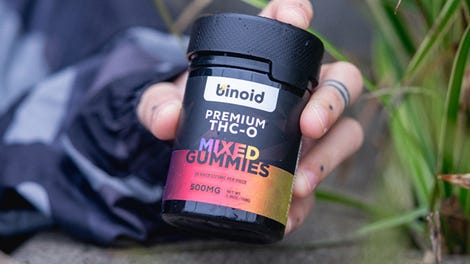 25% Off + Free Shipping
Binoid THC-O Gummies
Mike Kingery, age 35, everyday center fielder (1996)
Jim Leyland, blubbering mercenary (1996)
The high-water mark: 79 wins! Second place! (1997)
Former 2B Jose Lind gets pinched for driving while "extremely inebriated" and wearing no pants (1998)
Marc Wilkins breaks Jeff Tabaka's jaw in a fight over a card game (1998)
At shortstop, Kevin Polcovich: .189/.255/.245 (1998)
Jon Lieber traded for Brant Brown (1998)
Four years and $15 million for Pat fucking Meares (1999)
Actual headline: "Kevin Young signs Pirates richest deal" (1999)
Jason Kendall shatters his ankle (1999)
Peter Gammons picks Anna Benson's ex-husband to win the NL Cy Young Award (2000)
Six years, $60 million for Jason Kendall (career OPS+: 95) (2000)
Two-year contract extension for Mike Benjamin, age 34 (career: .229/.277/.339) (2000)
Former OF Al Martin pleads guilty to domestic violence in alleged bigamy case (2000)
Same day PNC Park opens, Willie Stargell dies (2001)
Same year PNC Park opens, Pirates lose 100 games (2001)
Dave Littlefield hired as GM (2001)
"After he was ejected, [manager Lloyd] McClendon picked up first base and defiantly took it back to the dugout" (2001)
Seventeen days later, Littlefield trades Jason Schmidt, who becomes a three-time all-star (2001)
Year after PNC Park opens and Pirates lose 100 games, Pirates raise ticket prices (2002)
Derek Bell's "Operation Shutdown" (2002)
Ron Villone, Opening Day starter (2002)
Drafting Bryan Bullington No. 1 overall instead of B.J. Upton or Scott Kazmir (2002)
Littlefield on draft day: "We feel comfortable projecting [Bullington] as a No. 3 starter" (2002)
Jimmy Anderson (5.17 ERA as a Pirate) somehow makes 89 starts in four seasons (1999-2002)
Chris Young (future all-star pitcher) traded to Expos for Matt Herges (2002)
Passing Bronson Arroyo through waivers, only to lose him to the Red Sox (2003)
Mike Williams and his 6.14 ERA, all-star (2003)
The Randall Simon sausage episode (2003)
Esteban Loaiza, traded in 1998 for Todd Van Poppel and Warren Morris, strikes out 207 hitters and posts a 2.90 ERA for the White Sox (2003)
Aramis Ramirez and Kenny Lofton traded for a tin of Skoal and two sticks of stale bubble gum (2003)
"... people in the ballroom laughed as other clubs continued to take Pittsburgh's minor leaguers" (2003)
Raul Mondesi goes AWOL (2004)
Abraham Nunez (career .204 OBP and .222 SLG as PH) makes 62 pinch-hit at-bats (2004)
Phillies offer Ryan Howard for Anna Benson's ex-husband, Pirates turn them down (2004)
Anna Benson's ex-husband and Jeff Keppinger traded for Jose Bautista and Ty (.237/.298/.314 in two seasons) Wigginton (2004-05)
They got Benito Santiago! (He was 40. He lasted six games.) (2005)
"Now batting third, Tike Redman!" (2005)
Oliver Perez fights laundry cart, loses (2005)
$6 million for Jeromy Burnitz (2006)
$4 million for the return of Joe Randa, age 36 (2006)
Ryan Vogelsong's ERA in parts of five seasons as a Pirate: 6.00 (2001-06)
Jose Bautista's power peak as a Pirate: 16 home runs (2006)
Those hideous alternate red vests (2007)
Their own press release boasts of drafting the fifth-best pitcher with the fourth overall pick (2007)
Taking eight pitchers in 10 years in the first round of the draft, with only Paul Malholm having any real MLB success (1998-2007)
Ian Snell: "I fucking hate this" (2007)
The fan walkout that wasn't: "It ain't gonna make anyone forget Tiananman Square" (2007)
33-year-old Matt Morris and his $10 million contract acquired at the trade deadline (2007)
"Everything about [manager] Jim Tracy's stupid existence" (2006-07)
"I think only John Russell has nightmares about his [first win as a manager]" (2008)
This fucking game, which I attended. On my birthday. (2009)
20-0 (2010)
17-3 (2010)
36-1 (2010)
They fired a pierogi (2010)
$ (2010)
The "audible laughter" of Cubs fans (2010)
57-105 (2010)
#JerryMealsSaysItsSafe (2011)
The seven-error game (2012)
Getting no-hit by Homer Bailey (2012)
The "worst season ever" (2012)
"Hell Week" (2012)
Going 7-46 at Miller Park (2007-13)
100 highs and (mostly) lows (1992-2013)
Your keepsake list of every Pirates player to take part in The Streak (1993-2012)
And now it's over. Finally. At long last, proceed with the pennant race.
---
Photo: Associated Press; GIF via Captain Jolly Roger