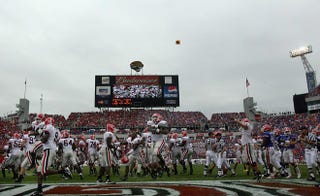 Whatever your thoughts about Georgia's whole-team-celebration last Saturday after scoring the first touchdown against Florida, you can't deny it wasn't fascinating to look at.
It was like a bum rush, a whole team streaming onto the field to celebrate an otherwise routine touchdown. It was fun to see a major college football team react as like they were a 12-year-old girls' softball team. And now, sadly, Georgia coach Mark Richt is apologizing.
"Again, I was expecting the eleven players on the field to be doing the celebrating, not for the bench to clear as it did," Richt wrote in his letter to Slive. "I understand that the entire team running on the field created the potential for an altercation and that excessive celebration is not in compliance with the Southeastern Conference sportsmanship policies and expected standards. My only intention was to create enthusiasm."
Bah! Let the freak flag fly, Mark! We think after every touchdown, not only should every player run on the field, but they should do some sort of dance routine. We recommend starting out with "Thriller," and working one's way up from there.
Richt Apologizes For TD Celebration [Atlanta Journal Constitution]