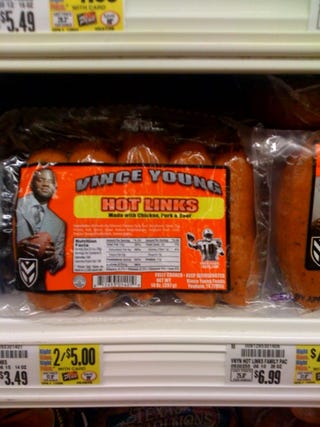 Got an image you'd like to see in here first thing in the morning? Send it to tips@deadspin.com. Subject: Morning crap.
Yes, Vince Young's forays into cased meat sales are not recent, but this photo sent in from a sausage-eyed reader still seemed so...new. It was only yesterday that we saw Vince Young half-bombed at LenDale White's birthday party and today, he's 2 for $5 in a random super market. So Vince Young wears a suit during his hot dog photo shoot but goes with a blazer-buttoned-down combo for LenDale's party and shirtless for a Longhorns reunion? This explains so much.
It's Friday. Gooooood morning. Let's bid farewell to Memphis and, you know, rock the shit. We all went there on business.