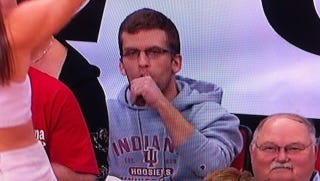 Your morning roundup for Dec. 1, the day The New York Times gave us a +1. Image courtesy Justin G. Got any stories or photos for us? Tip your editors.
What we watched: When a top 10 team comes to the Dean Dome, the seats closer to the floor are often littered with former Tar Heels come home to revel. Last night, as No. 5 UNC beat No. 7 Wisconsin, 60-57, ESPN's cameras kept finding Antawn Jamison, Raymond Felton, Tyler Hansborough, and a few others in the crowd. The best sighting, though, was Rasheed Wallace, who sat directly behind the bench in a red sweatshirt and a black knit Dickies cap. There's some speculation that the sweatshirt was intended to antagonize Roy Williams, who threw a fit over red shirts after last week's loss to UNLV. If that was the case, that's wonderful—but it seems more likely that 'Sheed was just wearing a red sweatshirt because it was a sweatshirt. He is, after all, 'Sheed.
Elsewhere
Mike Leach gets the keys to Washington State's sheds: "'I have always admired the tradition of Washington State,' Leach said in a statement. 'It's a university on the move that is experiencing growth. I'm excited about what they are doing with the facilities and it's a team that has battled through some hard times and shows great promise in the future.'" [AP]
Heh: "ESPN Investigation Reveals 'Mission:Impossible Ghost Protocol' Hits Theaters And IMAX December 21" [The Onion]
The biggest underachiever in the history of the NFL Draft: "To be clear, these data mean that Akili Smith provided 1.6% of the expected value of a 3rd overall pick. That's just horrendously terrible. He was almost twice as bad as Ryan Leaf. No other player in history has performed below 2% of his expected value. A singular talent, that Akili Smith. The 1997-9 drafts should not be proud to represent over half of the worst picks in NFL history." [HSAC]
Washington Post blows a lot: "Point The First: Unless you are a nun, if you are over the age of 12, and you use the phrase 'potty-mouthed' in a way that is not ironic, you should be removed gently from any mode of mass communication, handed a cookie and a glass of warm milk and a tranquilizer the size of an elephant's dong, and gently laid down on soft cushions until a bed can be found for you at the Premature Fogies Home." [Esquire]
The Tom Brady dialectic, part 1: "When asked if the league misses Manning, Brady simply responded, 'I don't know.'" [Boston Herald]
The Tom Brady dialectic, part 2: "It took an appearance on Inside the NFL on Showtime for Brady to say how he really feels. The episode aired last night, and it included Brady saying, 'The NFL misses guys like that… I know how much football means to Peyton.'" [Boston Herald]
Kris Humphries keeps banging his head against the fourth wall: "Fartastical fraud victim Kris Humphries has pressed on with his belief that he was merely a plot device used by his temporary wife Kim Kardashian to boost ratings. 'I felt like I was on a fast roller coaster and couldn't get off when now I know I probably should have,' TMZ quotes the genteel giant as saying. 'I got caught up in the hoopla and the filming of the TV show.' It happens." [Gawker]
The Masked Man speaks: Go listen to his podcast. [Grantland]
Merch: Managing editor Tom Scocca and contributing editor Drew Magary have both written books. You can buy Scocca's Beijing Welcomes You: Unveiling the Capital City of the Future here, and Magary's The Postmortal here. Now do it.
Send stories, photos, and anything else you might have to tips@deadspin.com.