Evgeni Malkin scored or assisted on every goal for the Penguins today in a 4-3 win over the Tampa Bay Lightning. Malkin tied the game and gave Pittsburgh a one-goal lead with two goals in five minutes late in the third period. Nevertheless, the Lightning forced overtime with just over a minute left in the game. Malkin then assisted on the game winner.
Malkin's second goal, which gave the Penguins that brief 3-2 lead, was the more impressive of the two. Thanks to an ill-advised pass, Jussi Jokinen found the puck delivered right to his stick and whipped it to Malkin, alone in front of the net, who stopped the puck dead on his blade and seamlessly ripped a backhander over Anders Lindback's glove. It's like goal-scoring by numbers. Steal. Pass. Stop. Flick.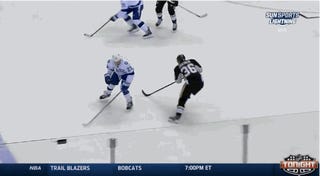 Malkin also assisted on the opening goal of the game, a blistering slap shot from Sidney Crosby. On the power play, he streaked the length of the ice to the Tampa goal, drawing three of the Lightning's four defenders, and kicked out a pass to a wide-open Crosby, who did not miss.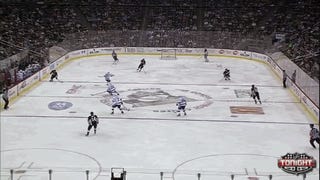 Pretty good day for Geno.
[NHL]