A former ESPN employee is suing the sports media giant, claiming a former supervisor distorted photos of her to make them "sexually provocative" and posted them online, and later retaliated at work after she rebuffed his advances.
Update: The full statement from an ESPN spokesperson reads, "ESPN denies the allegations and is defending the claims vigorously."
In the complaint, first filed in Connecticut Superior Court last month and moved to federal court yesterday, Heather Paskewich, who began working for ESPN in 2000, alleges that her troubles began when Heli Soto overheard her and a coworker talking about modeling and offered to take photographs for both of them at no charge.
18. After the photo shoot, both Plaintiff and Ms. Lopes had trouble getting copies of the photographs from Mr. Soto. When Plaintiff eventually obtained a CD from Mr. Soto containing some, but not all photographs, Plaintiff discovered that Mr. Soto had edited the photos, distorting them to make them appear sexually provocative.

19. Plaintiff also discovered that Mr. Soto uploaded these distorted photographs, without her knowledge or consent, to a website that he maintained. This website contained photographs of other young women who worked at ESPN as well.

20. Mr. Soto assured Plaintiff that there was nothing wrong with the photos on the website, and that there was nothing she needed to worry about.
Several years later, in 2009, Paskewich accepted a position as a senior coordinator in the International On-Air Marketing Department. This meant she reported to three people, including Soto, who still had the photos.
27. When Plaintiff began working in the International On-Air Marketing Department, Juan Alfonso, the head of the department, told Mr. Soto to remove the distorted photographs of Plaintiff from his website, since it was unprofessional. [Senior director, of International On-Air Marketing Andy] Bronstein also told Mr. Soto that the photographs should be removed.

28. Mr. Soto assured Plaintiff that the photographs would be removed.

29. When Plaintif subsequently checked on the website that Mr. Soto maintained, which had previously contained photographs of her distorted to appear sexually provocative, she found that a second, password-protected website had been set up. Although she was unable to access it, Plaintiff saw her own photograph on the home page of the second website.
G/O Media may get a commission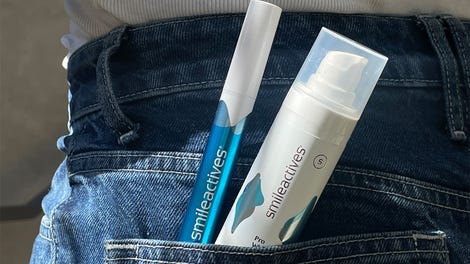 58% off
Whitening Powerhouse Pen & Gel Duo
Paskewich didn't report the second website to anyone, she says in the suit, because she feared retaliation.
Paskewisch alleges that Soto started asking to meet with her outside of work, but claims the meetings made Paskewich uncomfortable because Soto would "steer the conversation to off work topics, and discuss beliefs about monogamy and marriage." Before Paskewich took a medical leave for foot surgery in 2012, the complaint states, Soto "insisted" they go out again, and he tried to kiss her when he said goodnight. While she was on leave, Paskewich claims, Soto would text her about meeting up for dinner or going over to her house.
The complaint states that when she returned to work, Paskewich learned that Soto had taken up with Sandra Pantoja, another employee under him, even though both were married to other people.
54. At a going away party for [another employee], at a dance club called the Cadillac Ranch, Mr. Soto and Ms. Pantoja made no effort to hide their relationship, eating from the same plate, and constantly touching each other. When Ms. Pantoja left, Mr. Soto left, stating that he was going to "walk her to her car." Mr Soto was gone for over an hour, a fact that everyone commented on.

[...]

58. During this time period, members of the department were making frequent observations about the relationship between Mr. Soto and Ms. Pantoja. [Manager, International On-Air Marketing Donna] Ray told Plaintiff that she saw Mr. Soto and Ms. Pantoja kissing, they would disappear for long perios of time behind closed doors in Mr. Soto's office, and they would show up late and disheveled for meeting.
During her leave of absence, Paskewich says she was told she would now be reporting directly to Pantoja, who had been promoted by Soto. Upon her return to work, Paskewich claims she found herself "subjected to hostile and retaliatory treatment" by Soto and Pantoja.
Paskewich claims that she had the last two people who reported directly to her removed from her supervision, and that Soto told her "people didn't like her" and said she was being put on a performance improvement plan. Paskewich says she asked to be moved to another building because Soto frightened her.
Paskewich claims that request triggered a series of conference calls with HR, including Heath Rosenthal, senior manager of employee relations, and Donna Hricisko, director of human relations, in which Paskewich told them of her objections.
Paskewich says she took medical leave in 2013 due to stress, and was scheduled to return to work on June 17, 2013. Four days before that, the complaint states, she was told she was being laid off.